Luther Younger, a 99-year-old man from Rochester, N.Y., walks six miles roundtrip per day to see his ailing wife, Waverlee, at the hospital she is being treated in, CBS News reports.
Waverlee was diagnosed with a brain tumor nearly nine years ago and doctors believed she would not live five years. To be clear, Luther could catch a bus or get a ride to the hospital, but he prefers walking. It clears his mind. In the CBS News story, he is seen hitting the ground to do push-ups before heading off with the reporter on his long walk.
A former Marine who fought in the Vietnam war who prides himself on his physical conditioning, Luther has no problem getting around, even running on the way to the hospital to see his wife of 55 years.
"People tell me to act my age—yeah, right. They're jealous because I don't drink, I don't smoke, because it's no good. I wouldn't be here [if I did]," he said.
Here is more on Luther's devotion to his wife, per CBS News:
We walked through the University of Rochester campus, and Luther started running again when he spotted the hospital building. I told him to be careful, that it was hot out, but he just said, "Come on, we have to get there." He refused water, and it seemed that the only thing on his mind was Waverlee.

As he made his way through the hospital hallways, Luther said hello to the staff members as he passed by, but didn't stop walking.

When he walked in the door of her hospital room, he said to me, "Watch this ... baby, give me a kiss." He kissed Waverlee, and her eyes fluttered. He is proud his kiss can still make his wife happy after all these years.

"That's my cup of tea, and she's sweet too," Luther said, sitting next to Waverlee's bed.

"He's always called her that," Lutheta [their daughter] told me. "He's always cared about her the way he does [now]. He loves my mom, He'll do anything for her."

Lutheta says she tries to find a ride home for her dad as often as possible, especially when it's hot out. She doesn't like that he walks six miles alone every day, but her dad is adamant and she lets him do it.

"My dad says it keeps him alive, it keeps him going," his daughter said. Lutheta also started a GoFundMe campaign for her parents, to help raise money for Waverlee's hospital expenses.
G/O Media may get a commission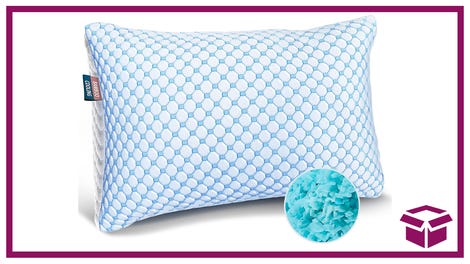 23% off
Nestl Cooling Pillow - Queen Size
The two met at a laundromat and got married at their home. Luther praised Waverlee for helping raise his kids from a previous relationship and challenging him to be the best man possible.
"She wasn't easy. She was the type of person, if you didn't work, you got to go. And I had to work," he said. "That's why I'm sticking with her, because if it hadn't been for my wife, I wouldn't have made it."
If you want to watch video of their lovely story, check it out below: