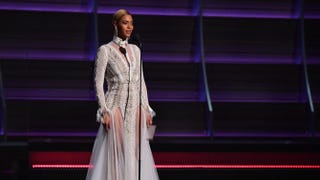 Beyoncé took her fans on an emotional journey Saturday night, through the rage and betrayal of a troubled marriage, the disappointment of a father's daughter, the anguish of a mother who has lost a child to violence, and finally the redemption and healing of a black woman. Her so-called visual album, a collection of music videos, punctuated by spoken word and that baseball bat, which debuted HBO stunned her fans and set Twitter on fire.
Here's what Fusion, our sister network had to say.

"What we didn't expect—although maybe we should have, because Beyoncé—was that it would be stunningly beautiful and expertly directed. Lemonade reminds us that every truth has two sides. (The album, by the way, is currently available for streaming on Tidal.)"
Read 9 Unforgettable Moments From Beyoncé's Lemonade at Fusion.net.