Bernice Starnes is not to be messed with.
The 86-year-old woman, who uses a wheelchair, was the victim of a purse snatching right outside her Bronx, N.Y., home.
Starnes, a former high school track star, told PIX11 that she tried to give chase but just couldn't.
"I couldn't catch her," Starnes said. "I wanted to catch her and beat the [s—t] out of her."
Police have a suspect, 37-year-old Adrianne Terry, in custody, and Starnes is hoping for justice.
"She wanted to hurt me. And the bitch don't even know me!" Starnes told PIX11.
Starnes' hope is that Terry gets thrown behind bars and meets her punishment there.
G/O Media may get a commission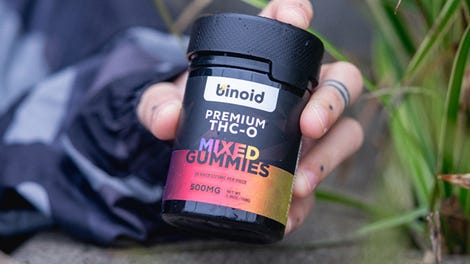 25% Off + Free Shipping
Binoid THC-O Gummies
"I hope that they beat her ass … beat her ass every day for as long as she's in there," the elder said adamantly.
When a PIX11 reporter told Starnes that some may view her statement as harsh, the 86-year-old was uncompromising.
"Well, so what? What she did to me was even worse!" Starnes said. "I'm supposed to feel sorry for that bitch? I don't!
"I'd put a bullet through her brain and feed it to the animals," the outraged 86-year-old said.
Terry was apparently caught on video taking Starnes' purse from her before later tossing it, authorities said. She was charged with grand larceny and petty larceny.
Terry told reporters as she was being taken away by police that she wasn't the one who committed the crime.
Some police officers pooled their own money and donated it to Starnes, who lost some $150 and a bank card in the theft.
Read more at PIX11.