Nsenga K. Burton, Ph.D., a media scholar, is digital editor in chief at Grady Newsource and a faculty member of the Cox Institute of Journalism, Innovation, Management & Leadership at the Grady College of Journalism and Mass Communication at the University of Georgia. She is founder and editor in chief of the award-winning news blog the Burton Wire. Follow her on Twitter here or here.
Thanksgiving celebrates the importance of sharing and togetherness. Marked by family gatherings and familiar food items (turkey, stuffing, cranberry sauce, collards, sweet potato pie), the holiday also offers a number of traditions such as watching football and basketball games and the Macy's Thanksgiving Day Parade on television. Some folks also participate in church or community-service activities. But when post-dinner "-itis" sets in, that's when many settle in to watch their favorite Thanksgiving movie. The Root came up with a list of film fare with Thanksgiving themes that you might want to check out.
Miracle on 34th Street
G/O Media may get a commission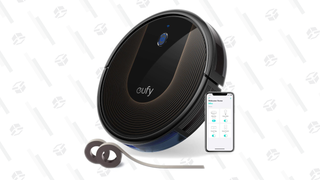 48% Off
Eufy BoostIQ RoboVac
This movie is a Thanksgiving film masquerading as a Christmas classic. Yeah, it's about an old man (Edmund Gwenn) who thinks he's Kris Kringle, and who is insistent that Christmas is real despite being surrounded by cynics like Doris (Maureen O'Hara), special events director of the — wait for it — Macy's Thanksgiving Day Parade. Doris has taught her daughter, Susan (Natalie Wood), to reject notions of fantasy and that this "holiday" is for commercial interests. Susan eventually sees that there's something special about Kris Kringle and his insistence on the true spirit of Christmas.
This 1947 film is perfect for Thanksgiving because not only does it involve a plot point of getting an invitation to dinner and the iconic Macy's Thanksgiving Parade, but it also shows the importance of celebrating the true spirit of the holidays.
A Charlie Brown Thanksgiving
What could be more fun than watching the shenanigans of the Peanuts gang on Turkey Day? Peppermint Patty is at it again, inviting herself to Charlie Brown's house for Thanksgiving dinner. Good grief! An uninvited guest brings drama to the Brown household and to the lives of the Peanuts gang. This is a perfect Thanksgiving film because it is as loved by adults as much as it is by children. Though this 1973 animated classic is nearly 40 years old, who can possibly say no to Snoopy and Woodstock rockin' pilgrim hats? Charles Schulz's take on the holiday is timeless.
The Wiz
Diana Ross, Michael Jackson, Lena Horne, Nipsey Russell, Richard Pryor, Ted Ross, Mabel King, Theresa Merritt, Roberta Flack, Cissy Houston, Quincy Jones and Robin Givens in an uncredited role. Need we say more? In case you're not convinced by the all-star cast and stellar musical performances, the 1978 film stars Ross as Dorothy, a wallflower who hides out in the kitchen of her Harlem apartment during Thanksgiving dinner to avoid her overly opinionated family. When her dog, Toto, runs out into a blizzard, Dorothy takes flight and ends up being transported to Oz.
Still not convinced? Flying monkeys, Emerald City in Technicolor, Motown Productions and Horne (as Glinda the Good Witch) singing "Believe in Yourself" ought to do it. If not, try to figure out why this musical, which came out at the tail end of the era of the blaxploitation genre, was a commercial failure at the time and is a cult classic now. Ease on down this road for Thanksgiving.
Soul Food
While this isn't a Thanksgiving-themed film like others on the list, it is about family and food. An ailing grandmother affectionately referred to as Big Mama (Irma P. Hall) has managed to keep the Joseph family together for the last 40 years with Sunday dinners that feature a feast of soul food favorites. The family falls apart after Big Mama dies from diabetes-related complications, since she was clearly the glue of the family. Her grandson Ahmad (Brandon Hammond) hatches a plan to bring the family together for one last supper in an effort to re-create the togetherness he longs for but has been missing since the death of Big Mama.
Not only does the 1997 film illustrate the importance of family staying together regardless of circumstances, it also features soul food that will definitely have mouths watering just in time to slice the turkey.
She's Gotta Have It
This R-rated 1986 film marks the debut of iconic filmmaker Spike Lee as he explores the sexual escapades of heroine Nola Darling (Tracy Camilla Johns). Nola has a rotation of three men — bourgeois Greer (John Canada Terrell), knucklehead Mars Blackmon (Spike Lee) and manly man Jamie (Tommy Redmond Hicks) — all of whom fulfill some special need. Nola is open about her wants and needs and not being able to settle down with just one man. Her game is so tight that she invites all three extremely different men to Thanksgiving dinner, and — get this — they all show up. The comedy ensues, and the controversial story unfolds, making it one of the most simultaneously celebrated and critiqued films of the 1980s.
Pieces of April
Do you have trouble getting along with your family during holiday gatherings? If so, then this 2003 indie film is for you. Katie Holmes plays April, an unruly daughter who invites her estranged suburban family to her Lower East Side apartment for Thanksgiving dinner. Who is on the invite list? Her dying mother (Patricia Clarkson), optimistic father (Oliver Platt), goodie-two-shoes sister (Alison Pill) and annoying filmmaker-wannabe brother Timmy (John Gallagher, Jr.) arrive just in time to meet her black boyfriend (Derek Luke). Add put-upon neighbors Eugene (Isiah Whitlock) and Evette (Lillias White) to the mix, and it's pure comedy and drama. Thanksgiving dinner offers some surprises, one of which is the realization that you can't choose your family, but family is all we have.
The Pursuit of Happyness
Based on the real-life story of Christopher Gardner (Will Smith), this 2006 film tells the story of a man who literally gives all of himself in order to provide for his son (Jaden Smith) and succeed in life. Chris is an inventor who loses his livelihood, his wife and almost his mind while trying to sell his most recent invention. He has the opportunity to work as a stockbroker but must complete a six-month training program while trying to stay afloat in New York City. Through this arduous journey, Chris learns that he has more to give than he ever knew.
This is a perfect film for Thanksgiving because it shows the importance of a father's relationship with his son, reminds you to be thankful for what you have and embodies the idea that the more you give, the more you receive — even when you think there's nothing left to give.
Soul Food Junkies
What do we think of when we think of Thanksgiving? Food, more food — and more food after the game. Byron Hurt's documentary, which is still in progress, tackles the issue of black folks having too much fun with food. He examines the positives and negatives of soul food, exploring a cuisine that is central to our existence but affects the community in ways that can be harmful. The trailer features legendary comedian-activist Dick Gregory, referring to soul food as "death food."
For those of you who want to think more critically about what you eat, food-justice issues and whether we need to take some of the soul out of the food, Soul Food Junkies will satisfy your appetite.
Like The Root on Facebook. Follow us on Twitter.