Twenty-four hours after black America got our entire lives when we saw Beyoncé's 'Formation' video on Saturday, the Queen Bey slayed the nation with her "unapologetically black" anthem by singing about Negro hair and Michael Jackson nostrils. At. The. Super Bowl. Which is by far the largest viewed event in this entire nation. Beyoncé had finally done something just for us.
LeVar Burton Is Still Championing Literacy In "The Right to Read"
No less than a minute after the performance, we (collectively, the Beyhive) received quite possibly the biggest news of all: Beyoncé was headed out on an international "Formation" tour. That's when the influx of text messages from friends and family members began: "So we're going, right?" "It's lit." "We're in there." Of course we didn't care that she had no new album out, and just one single to lead the tour. We were going—no matter what.
If you're like me, you spent the majority of the next morning coming up with a game plan for how you and your group of friends were going to purchase tickets. Because purchasing tickets to a Beyoncé concert is like a science that is known only to true Beyoncé stans.
This morning, my friends and I sent one another reminder text messages, along with tips and tricks so that any one of us would be amply prepared when the moment arrived.
G/O Media may get a commission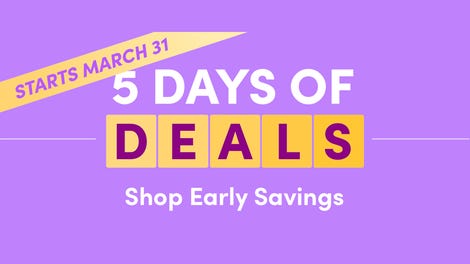 Sale sale sale
Early Savings - Wayfair's Five Days of Deals
"Make sure you're signed into Ticketmaster."
"And already have the code copied so you just take one button to paste it in."
"Don't waste seconds typing."
"Close out all other windows and applications."
"Have the Ticketmaster New York City page up and don't click refresh. Just hit the URL and press enter. That's a faster way of refreshing."
At last, the moment arrived—10 a.m. hit, and I typed in my Beyhive presale code.
… Two minutes later, the tickets were gone, and I still didn't have any tickets.
No worries, of course. There was still another presale that was taking place at noon for American Express ticket holders. "I got this," I thought to myself.
So 12 p.m. hit, and I was ready again. By 12:01, yet again, I got the notice that tickets were no longer available.
A minute later, I got the news. MY FRIEND HAD GOTTEN US TICKETS. We were going to Beyoncé.
I watched my co-worker frantically trying for over an hour with no luck, only to realize how emotionally taxing this all had become. Almost like being addicted to a drug, or Jordan sneakers … we were addicted to Beyoncé.
Just like the seven stages of grief, there are seven emotional stages that you encounter when trying to spend your rent money on Beyoncé Formation World Tour tickets.
1. Urgency
"I've got to call you back; these Beyoncé tickets go on sale in five minutes."
2. Anxiety
"Wait. Is it 10 a.m. yet? OK, whew … it's just 9:59 a.m."
3. Guilt
"Now, why didn't I have the Ticketmaster tab already saved in my browser, like my friend told me?"
4. Anger
"F—k Beyoncé. I didn't want to go to the concert anyway."
5. Denial
"I can just refresh my browser and try again. It's a whole stadium; there have got to be some tickets left."
6. Grief
"I'm going to die and never get to see Beyoncé."
7. Acceptance
"All right, I didn't get the presale tickets. But I can always try again when general admission goes on sale."
Kimberly Wilson is the social media editor at The Root. Follow her on Twitter.