(The Root) — If you appreciate TV dramas like Mad Men and The Wire, which challenge you to keep up with weaving plotlines, then Boss should definitely be on your radar. A political drama created and written by Farhad Safinia and airing on the Starz network, the series centers on Mayor Tom Kane's (Kelsey Grammer) quest to maintain political power in Chicago as he's confronted with his quickly deteriorating health.
Season 1 introduced viewers to a web of intrigue involving the city's players — scheming aldermen, cutthroat politicians, community activists, sneaky journalists — in pursuit of power. The second season, which kicked off a few weeks ago, has more plot twists and complicated characters than one can count.
Check out the seven reasons why you should be watching Boss:
Kelsey Grammer. The former Frasier star delivers an award-worthy performance every week. Thanks to strong writing and direction, viewers get to watch Mayor Kane unravel, compose himself and then take out his anger on unsuspecting rivals. Kane will throw anyone under the bus for political gain, not sparing his wife, child or adviser of 30 years. It is awesome to watch Grammer morph in and out of the monsters that consume him: greed and power. Find out why Grammer took home the 2012 Golden Globe for best actor in a drama series.
A great ensemble cast. While Mayor Kane is the lead character around which the stories unfold, Boss is truly an ensemble show, with interesting characters and strong performances from supporting cast members such as Connie Nielsen, who plays the mayor's wife, Meredith Kane; and Martin Donovan, who plays Ezra Stone, the mayor's double-dealing confidant who "lives" by the rules that he makes. Kathleen Robinson (ER) plays Kitty, an intelligent and driven aide who hasn't quite figured out her allegiances. Relative newcomer James Vincent Meredith, who stars as Alderman Ross, brings grit to the table, learning that he doesn't have the power he thinks he has in politics or his personal life.
Add Hannah Ware as Emma Kane, the mayor's naive and reclusive daughter, and recent Northwestern graduate Rotimi, who portrays Darius Robinson, a wannabe gangster who is way too gentle for the streets or politics, and you've got yourself one heck of a cast.
G/O Media may get a commission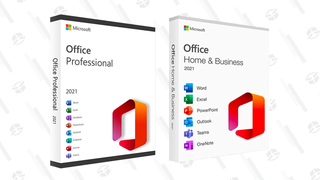 89% off
Microsoft Office Professional 2021 Lifetime License
Sanaa Lathan and Clifford "T.I." Harris. As if the cast weren't already strong enough, there is the new crusading community activist Mona Fredericks (Sanaa Lathan) who talks a tough game but is as hungry for power and acceptance as the others. Rapper T.I. plays the role of Trey, a reformed gangster, whom we met in the first season. Trey clearly has eyes on City Hall and is the actual gangster Darius wishes he could be. Lathan and T.I. deliver powerful performances and add dimension to a show that could easily implode with so many characters and storylines.
Strong female characters. Television has had a slew of strong female characters in recent years. Count them: Allison Janney on The West Wing, S. Epatha Merkerson on Law & Order, Kyra Sedgwick on The Closer, Kerry Washington on Scandal, Glenn Close on Damages and Gretchen Mol on Boardwalk Empire.
The women of Boss are just as ruthless as the male characters. They have their own minds, look out for their self-interests and use their feminine wiles to get what they want, when they want it. Scandal's savvy first lady, Mellie Grant (Bellamy Young), has nothing on Meredith Kane or Maggie Zajac (played brilliantly by Nicole Forester), who know nothing about being a "good wife." Sure, they'll play the role of the stereotypical wife — doting, vulnerable, unsure, scared and insecure — but it is just a performance to get them to where they want and need to be: in the seat of power, next to or in place of the men in their personal and professional lives.
Chicago. So many shows are set in the same locations — New York, Los Angeles and even Atlanta and Miami. It's pretty cool that the show's creators want to remind us that a setting in Chicago can be just as exciting, given the city's history of political drama and corruption. It is great to see cutaways to well-known buildings and sites in Chicago, along with speeches delivered in front of Chicago landmarks. Adding local talent such as Karen Aldridge, who plays Dr. Ella Harris, the mayor's put-upon doctor, and Rotimi to the cast lends authenticity to the show, especially since few cast members actually sound as if they're from Chicago.
Boss is a game changer for the Starz network. There's a reason a show that arrived with little to no fanfare is now winning Golden Globes, earning the praises of critics and developing a major following: This is a great show that stands out among the pack. Boss is poised to be the game changer that will put Starz on the map for high-quality original programming, much like Mad Men did for AMC and The Shield did for FX.
Network executives made the first season and the second season's premiere episode available for free for on-demand viewing online, which may prove to be a winning strategy. Boss is opening the door to more great original television programming in the future.
Nsenga K. Burton, Ph.D., is editor-at-large for The Root. She is also editor-in-chief of the Burton Wire, a blog dedicated to world news related to the African Diaspora and global culture. Follow her on Twitter.
Nsenga K. Burton, Ph.D., a media scholar, is digital editor in chief at Grady Newsource and a faculty member of the Cox Institute of Journalism, Innovation, Management & Leadership at the Grady College of Journalism and Mass Communication at the University of Georgia. She is founder and editor in chief of the award-winning news blog the Burton Wire. Follow her on Twitter here or here.