I'm from the South, where it's considered an abomination to show up to someone else's home empty-handed—no matter how small the occasion. Southern folks will bring a pie when they stop by your house to borrow a cup of sugar. Given the time, money and effort that people invest in hosting Thanksgiving dinner, it is a particularly considerate gesture to bring your host or hosts a gift. 
Some gifts, however, are better received than others. For example, unless the hosts have specifically asked you to do so or you've cleared it with them in advance, it's probably best not to bring food or alcoholic beverages to contribute to the meal. Chances are the hosts have meticulously planned out the meal and there will be plenty of food, some of which will go to waste if their guests arrive with unsolicited dishes. Furthermore, your Rotel dip may be off-theme, and your Waldorf salad may be competing with the hosts' ambrosia salad. (Death to both of those salads, by the way.)
Also, just for the record, no one needs another cheap bottle of wine that you'd have to be drunk to drink. It's just going to collect dust in the cabinet that serves as the Graveyard of Cheap, Unsolicited Bottles of Wine.
Similarly, guests should avoid bringing gifts that require the host to do extra work (like uncut flowers that require a vase and a spot on a shelf), compromise the host's decor (like a centerpiece) or add clutter to the home (like a potted plant or assortment of decorative bathroom soaps).  
Here are six thoughtful and affordable gift ideas for you to give your Thanksgiving-dinner hosts this year: 
G/O Media may get a commission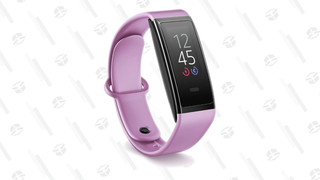 44% Off
Amazon Halo View Fitness Tracker
1. Breakfast
While it may not be a good idea to contribute food to the Thanksgiving meal itself, consider bringing breakfast items like bagels, place-and-bake cinnamon rolls or orange juice so that, after a long day of cooking, hosting and cleaning, the host doesn't have to prepare breakfast in the morning.
2. Coffee or Tea
After a hard day of hosting, your hosts might enjoy a pick-me-up, like a bag of gourmet coffee beans, or something to help them wind down, like an assortment of herbal teas. Make sure your hosts know that the gift is for their enjoyment, and you don't expect them to share it with their guests.
3. Disposable Cocktail Accessories 
Some hosts whip out the fancy stemware and embroidered napkins for Thanksgiving, while other gatherings will be less formal, with red plastic cups and plates. Depending on your hosts' level of formality, cocktail accessories like disposable holiday coasters and decorative charms for guests' glasses and cups are a festive touch. The key here is that the accessories are disposable so that guests can take them with them when they leave, or the hosts can simply throw them out at the end of the day. 
4. Books and Games
Bringing a deck of cards, a set of dominoes, a board game, coloring books for children, a football to toss or a fun (but small) coffee-table book is a great way to start conversation and keep dinner guests entertained before or after dinner. Of course, you want to run it by the hosts before you whip it out to make sure the game doesn't conflict with what they have planned.
5. Gift Cards
Giving a prepaid card that can be used anywhere and everywhere, or a gift card to a particular grocery store, drugstore or eatery, like Starbucks, is a nice gesture to show that you recognize and appreciate the time, effort and money the hosts invested in ensuring that you had somewhere to eat and fellowship on Turkey Day. 
6. Thank-You Cards
Sometimes a simple greeting card or thank-you note that you give the hosts when you arrive for them to open after you leave goes a long way in making the hosts feel appreciated. That's the whole point of bringing a gift in the first place. And after the hosts have soaked up your gratitude, they don't have to find a place to store your gift in their fridge or their wine-bottle graveyard. They can simply toss it in the trash.
Happy Thanksgiving!
Akilah Green is a recovering Washington, D.C., lawyer-lobbyist-politico turned TV and film writer and producer living in Los Angeles. She currently works for Chelsea Handler's Netflix talk show, Chelsea. She has also worked as a staff writer for Kevin Hart's production company, HartBeat Productions, and as a consultant for Real Time With Bill Maher on HBO. In addition, she co-wrote and is producing Scratch, an indie horror-comedy feature film, and is a regular contributor to The Root. Follow Green's adventures in La La Land on her blog, Twitter and Facebook.