When it comes to the holiday season there are a few keywords that likely come to mind: snow, presents, Christmas trees, Santa, hot cocoa, family, seasonal depression and the overwhelming anxiety of being able to afford to participate in a tradition of ravenous consumerism. All festive and wondrous things! And then, of course, there's holiday-themed rap music. While your traditional Christmas playlist may consist of classic selections from Mariah Carey—the Ambassador of Christmas herself, the Temptations, Destiny's Child and Donnie Hathaway's "This Christmas" (the only version that matters) let us not forget that rap has produced Christmas songs that do indeed slap.
Toheeb Jimoh Talks The Power, Acting With Toni Collette, & Ted Lasso on That's So Random
5. "Santa Claus Goes Straight To The Ghetto," Snoop Dogg
In December 1996, shortly after the death of Tupac, Suge Knight released a 16-track Christmas themed compilation album called Christmas On Death Row, claiming that proceeds were to go to an unnamed charity. With musical offerings largely from the bench of its roster like Guess and 6 Feet Deep, the standout track not surprisingly came from Snoop Dogg, (then known as Snoop Doggy Dogg) with "Santa Claus Goes Straight To The Ghetto" featuring Daz Dillinger, Nate Dogg, Tray Dee and Badazz. The Isaac Hayes sample-heavy track was the album's redeeming moment and likely a large factor in it selling 200,000 copies despite relatively scarce promo. Snoop later re-released the song featuring vocals from Boyz II Men.
4. "What You Want For Christmas," Quad City DJ's, 69 Boyz & K-Nock
While respectfully noting that they are indeed celebrating the birth of Christ, the 69 Boyz and K-Nock trade verses listing off their respective Xmas wishlists in the 12 Days of Christmas format on a quintessential Quad City DJ's Miami bass track. Twelve hundred dollars, nine packs of weave, five months of free rent, one Cadillac! Who among us has not hoped to find a few of these things under our Christmas tree? In the Christmas spirit of giving, Quad City gifts us to a reason to jingle both our asses and our Christmas bells.
G/O Media may get a commission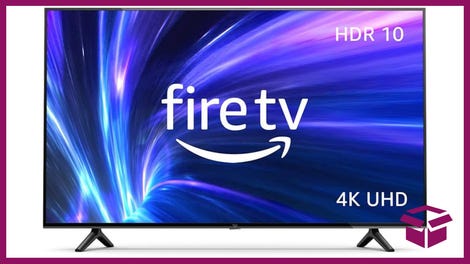 42% Off
Amazon Fire TV 50" 4K Smart TV
3. "Christmas In Harlem," Kanye West feat Cyhi the Prynce, Teyana Taylor and sometimes Jim Jones, Vado, Cam'ron, Pusha T, Musiq Soulchild, Big Sean
Released on Dec. 17, 2010, on what was then a customary G.O.O.D. Music Friday, the official version of this song that is available on Spotify, Apple Music and YouTube includes features only from Cyhi the Prynce and Teyana Taylor. However, the original nine-minute version that leaked on the internet also included verses from Big Sean, Pusha T, Musiq Soulchild, and most notably Harlem's own Cam'ron, Vado and Jim Jones. It's unclear what exactly happened but West claims the other contributions were missing from the track once it was uploaded to Apple and Spotify and for some reason, the nine-minute version is damn near impossible to find online. Nonetheless, the "Christmas In Harlem" that is available is a refreshingly festive Hitboy produced track, heightened with warm vocals from Teyana Taylor, a solid verse from Cyhi, and clever, holiday pun-laden bars from a pre-MAGA blonde bombshell Kanye that his mourning fans love to wax nostalgic about.
2. "Merry Christmas Lil' Mama," Chance The Rapper & Jeremih
Released in December 2016 from rap's favorite coverall'd Christian, Chance The Rapper and singer Jeremih put out a free Christmas themed mixtape that was nothing short of a Christmas triumph. Managing to deliver traditional festive sentiment, humor and contemporary radio ready tracks, it's no stretch to assert that Merry Christmas Lil' Mama is not only the best Christmas themed rap album ever produced but among the best Christmas projects ever. The title track "Merry Christmas Lil' Mama" merges Chicago juke, autotune, gospel vocals and rap, in a seamless experimental victory that feels both excitingly new and like home.
1. "Holiday," WitchDoctor
Now some may argue that this is a stretch because this song does not IMPLICITLY mention Christmas or anything else holiday themed outside of the hook, BUT I argue that nothing captures the darker side of the Christmas spirit like a song detailing the hopelessness of unemployment and the day-to-day struggle against poverty! "Holiday" is a gritty offering, and the accompanying video featuring a grim-faced black Santa and eerie Southern Gothic imagery, is befitting of WitchDoctor's brand; a distinctly unique sound courtesy of the Dungeon Family and a testament to the creative unorthodox approaches rap can take the holiday spirit. Merry Christmas n' shit!