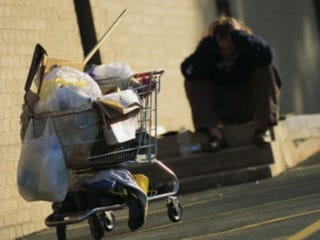 On the heels of President Obama's pledge to end homelessness among veterans within five years comes news that gives the promise even more significance for the black community: A full 45 percent of the nation's estimated 131,000 homeless veterans are African American, BlackAmericaWeb reports.
The figure comes from a new report by the National Alliance to End Homelessness. The study included data from the departments of Veterans Affairs and Housing and Urban Development and veterans' medical facilities nationwide.
What's behind the disproportionate numbers? M. William Sermons, Ph.D., director of the Alliance's Homelessness Research Institute, told BlackAmericaWeb.com, "Some of the risk factors affecting African-American men are high unemployment rates (almost double that of whites) and highly disproportionate rates of discharge from prisons and the foster care system."
In other words, the high percentage of homeless black veterans is just another symptom of the inequalities that exist in so many areas of life in America. While they're being highlighted on Veterans Day and by this new study, those issues are with us every day of the year.
Read more at BlackAmericaWeb.
In other news: The Cult of Joe Paterno.