(The Root) — Defining the Philly soul sound in the '70s with Kenneth Gamble and Leon Huff-produced anthems like "Back Stabbers" and "For the Love of Money," the O'Jays had a groundbreaking musical career that spanned 50 years, including 10 No. 1 hits and millions of records sold.
It might seem hard to imagine that it took half a century for the group's leader, Eddie Levert, to branch out on his own. But the O'Jays' relentless touring schedule has kept the group perpetually in demand. The "Love Train" keeps on grooving.
Levert's new album, I Still Have It, is inspired by the love of his wife and the loss of his two late sons, Gerald and Sean. Gerald's death in 2006 was ruled accidental due to acute intoxication from prescription and over-the-counter medications; he was diagnosed with pneumonia. Two years later, while incarcerated at the Cuyahoga County Correctional Facility in Ohio, Sean died from complications of an inflammatory disease called sarcoidosis.
A testament to Levert's resilience in the face of tragedy, I Still Have It has special significance on Father's Day. Its lead single, "Last Man Standing" summarizes his transition as a strong father through life's low points. The Root spoke with the congenial Levert via telephone to understand how his soulful new album helped him through the hard times.
The Root: Was working on this album therapeutic after your sons' deaths?
Eddie Levert: After they passed away, it just put me in such a funky place, a dark place, that I was unable to do any work for at least a couple of years. When you lose a child and you're the parent, it all feels wrong that your child is gone and you're still here. You feel like there was something you could have done to change the outcome. And then you finally realize that you have no power and no say-so in the process.
G/O Media may get a commission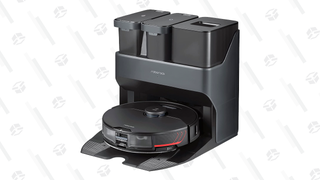 24% off
Roborock S7 MaxV Ultra Robot Vacuum and Mop
And then, all of a sudden, the ideas for songs start coming. You realize that, yeah, you lost a lot but you start realizing the things that you still have that are important to you, and the music and the melodies and the words start coming to you. I was able to get to the point to where I was able to write and finish the product.
TR: Do you have a favorite O'Jays song?
EL: Because it was the first one born, it's "Back Stabbers." To hear it for the first time as a hit record, and to know that it was a hit record because of where they're playing it — to hear it in the middle of Wyoming, out in the flatlands and all you can see is prairie and you hear your song "Back Stabbers"? You know that you have a hit record.
TR: In honor of Black Music Month, what's your favorite era of music?
EL: The '70s was a great time because there were still DJs per se, or radio personalities like the Frankie Crockers, the people on the West Coast and DJs in Chicago, Miami. You could have a [personal] relationship with them and you knew that when you asked them to play your record that they were going to help you do it. You could actually physically go to them and they would say, "OK, we're going to put your record in rotation." Now, you don't know who you're talking to. And they own all the stations.
TR: Is there possibility of new O'Jays music in the future?
EL: Yeah, we're talking about it; we're in the process now. But it's easy when it's only you to deal with, but when you've got a group of people to deal with, you've got three, four opinions and sometimes you can't ever come to the place where we can make an agreement and say, OK, this is what we're going to do. Everybody believes their idea is right. I'm not that stuck on my ideas that I can't readjust my thinking and say, OK, let's try it your way. But a lot of people aren't able to do that, sweetheart.
Tamara Palmer is a San Francisco-based freelance writer and the author of Country Fried Soul: Adventures in Dirty South Hip-Hop. Follow her on Twitter. 
Like The Root on Facebook. Follow us on Twitter.