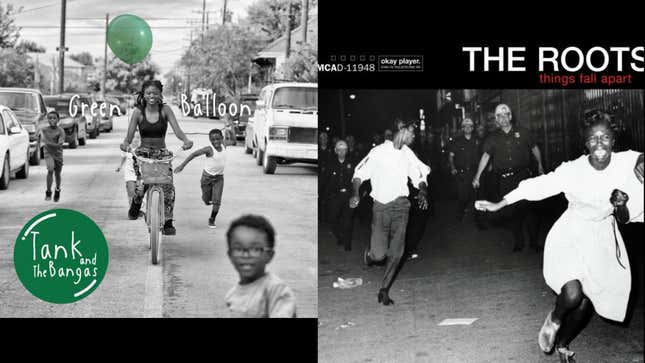 You're getting a twofer today; it's a celebration, bitches! This weekend I made my way up to Philadelphia for the 12th annual Roots Picnic (whole article comin') to celebrate my 40th birthday (more on this coming soon, too) and because of the amount of drinking and shenanigans I participated in, Day 2 got lost in the sauce. But you can't have a Day 3 without a Day 2 so, the two songs today are inspired by acts seen at the Roots Picnic: Tank and The Bangas and The Roots themselves. Allons-y.
Small Town Horror Story: The Vietnam Veteran Who Refused To Leave A Man Behind
Tank and The Bangas "Spaceships," (2019)
I'm super late to the Tank and The Bangas party, but a muhfucka here now! I was perusing the Facebooks a few weeks ago and I saw somebody mention that they were listening to the latest release by Tank and The Bangas, Green Balloon. I'd heard the name of the group before but had no idea who (or what, really) they were, but on that day, I had time so I fired up the album and "Spaceships" was the first song (after the intro). I was so pleasantly surprised by how it opened up that this song has been on le repeate since then.
I'm not trying to draw too heavy a comparison here (mostly because the group's sound and the lead Tarriona "Tank" Ball are so eclectic), but the first thought I had about this song, in particular, was that Chance the Rapper would live beautifully on it. The music is so rich, the arrangement so dope and I love Tank's voice, which, one listen through this album shows you she can pretty much do it all. And her energy was infectious at the Roots Picnic when they performed. The New Orleans collective has definitely made a fan of me, and not for nothing, my 4-year-old son loves their single "Nice Things" (the clean version) from this same album.
It's a banga. See what I did there? Let's just move on.
The Roots "Act Too (The Love Of My Life)" (1999)
On Day 1 of this here 30-day journey, I featured my favorite hip-hop song of all time, but this song right here? This song is literally one of the most beautiful pieces of music mine ears have ever had the joy to listen. It is perfect in every way and it's so emotive that I still teleport right back to the first time I heard it in 1999. This song is the REASON I wanted to attend the Roots Picnic. The Roots celebrated the 20 year anniversary of the album, Things Fall Apart, and performed the album in full and I have never seen "Act Too (The Love Of My Life)" performed live and I needed that in my life.
As far as music goes, I literally could not love a song more than I love this song. Black Thought does his thing, creating a visual environment with his verse and then Common comes through and crushes the buildings with a vintage Common Sense, truth-to-power verse about the state of hip hop at the time:
"...when we perform it's just coffee shop chicks and white dudes, over her I got into with that nigga Ice Cube..."
If this song lasted for 12 minutes, it still wouldn't be long enough to me. I was like a giddy child waiting for Christmas anticipating the performance of "Act Too" on Saturday in Philadelphia, and honestly, that's how I feel sometimes when I listen to Things Fall Apart; I listen to the album from start to finish just to get excited knowing that opening melody is about to hit the speakers. When I think of hip-hop at its apex, this is where I personally go.
And in case you wonder how real my love is, I googled the song and I entirely forgot that I wrote this in 2018:
Let's start with the music. I'd argue, seriously, that the beat for "Act Too" is one of the best beats in hip-hop history. Sure, it's not just a beat—it's more of a musical composition—but it's so ethereal and beautiful and fit perfectly with the verses. There's a reason that the Roots realized they needed to expand it from an interlude. I imagine they were sitting in the studio listening to it and Questlove was like, "I can't just listen to this for a minute and a half; I need this to last for at least five minutes.

I could listen to it for 10. And then to infinity and beyond. Listen, I don't know what God's favorite song or album of all time is. I'd imagine God has a pretty varied musical palate. But I'd be willing to bet all of the money in my bank account that this song is on his "Best of Humans" playlist.

"Act Too," you're the love of my life.