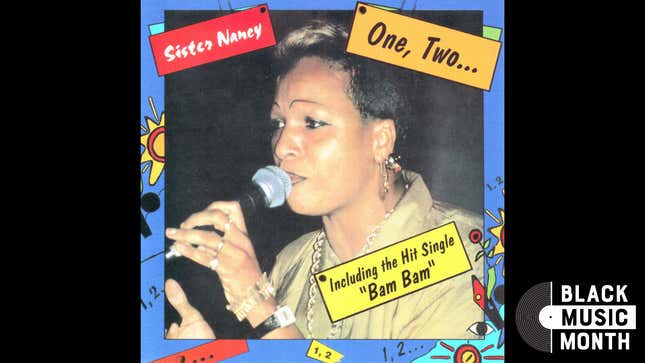 I literally have zero recollection of the first time I heard Sister Nancy's "Bam Bam." I don't remember it at all before college though, so I'll just go ahead and assume I heard it at the same place I heard so many dope songs during my college tenure: (what we called) "Fashion Fridays" at Spelman College's Lower Manley, which was the bottom of the student center.
Here's How Medicaid Expansion Can Play A Role In Black Maternal Healthcare
Every Friday, there were DJs and vendors and companies trying to ruin our credit by giving us awesome T-shirts in exchange for credit card applications. It was here that I heard so many of my college experience's signatures songs (the first time I heard Nas' "Nas Is Like" was there and we were all stunned into amazement; same with Soho's "Hot Music") so it makes sense that I might have heard such a life-altering song there first.

Sister Nancy, "Bam Bam" (1982)
Similarly, "Bam Bam" was in the greatest-longform-music-video-that-the-creators-swear-is-a-movie of all time, Belly. No matter where I heard it first, once I did, it INSTANTLY became one of my absolute favorites—like top 5 favorite songs—of all time. Featured on Sister Nancy's 1982 album One, Two, I would argue that there is literally no place this song doesn't work. It works in slow-motion and fast-motion (?...I don't know, either). It works on a plane or on a train. You can smoke to it or drink to it and it sets the mood perfectly either way. It just...bops in the realest way possible.

Interestingly enough, the bones of the song are built on foundations of other Jamaican artists. For instance, the super-recognizable beat is the "Stalag 17" riddim, released by Dave and Ansel Collins in 1974. And the hook? That's courtesy of Toots and the Maytals' 1966 song of the same name, "Bam Bam." Chaka Demus & Pliers also covered that song. But Sister Nancy, real name Ophlin Russell, well, her voice and rendition is legendary because of her performance. It just never gets old. Ever. But how she got to her golden song isn't as important as the fact that we now have it and the world is a better place for it.
What a bam bam.