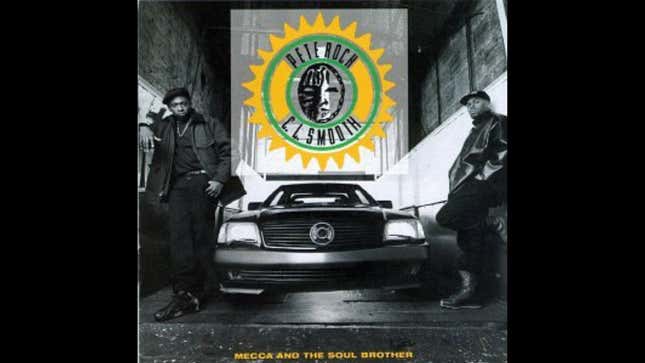 June is Black Music Month and we here at VSB have decided to celebrate with aplomb and splendor. Just like we did back in February with our 28 Days of Literary Blackness series, we also love music and relish in the opportunity to celebrate that love as frequently as possible. Sometimes you just have to kick back and appreciate what we've done as a culture and a community, constantly shifting the zeitgeist and creating the new normal for society. And that's exactly what we will do here.
Courtney B. Vance in Heist 88 Is Our Black TV Pick of the Week
Over the course of the next 30 days—the entire month of June—we will feature a different song by a black artist from anywhere and everywhere. It will feature some country ... and a little bit of rock and roll ... and maybe even Soul II Soul. So kick off your shoes and relax your feet, party on down with the Xscape beat, just kick it.
Welcome to Black Music Month, VSB style.
Pete Rock & C.L. Smooth, "They Reminisce Over You (T.R.O.Y.)" (1992)
It seems fitting to start off a month of appreciation for black music with my favorite hip-hop song of all time. Even more so than that, the song pretty much had me at hello in 1992 when I first saw the video on a VHS tape sent to me in Germany from a cousin in America, the way most of us non-stateside military brats got our pop culture. I'm a hip-hop head through and through and can argue you down about best producers, rappers, etc. all the live long day. But Pete Rock will forever be in my top 5, no matter what, because he made this actual factual perfect beat. The horns are emotional, fam; I still get chills when I hear them.
And this isn't intended to be shade, but C.L. Smooth might have one of the best voices in hip-hop history, but wordsmith he wasn't, though he absolutely sounded like one. But on "They Reminisce Over You (T.R.O.Y.)" he was perfect, too. I remember when I finally found the Tom Scott sample that the song is based upon (also used for the album version of Black Sheep's "Similak Child,") I paid over $30 to have it shipped on CD from Japan because for some reason, at the time, it wasn't in circulation in America. And I can shout out the sample because Aaron McGruder ran the song on an episode of The Boondocks and I was like, well if folks don't know already, they know now. This song cemented hip-hop as my one true love in 1992 and I've held strong ever since.
It is often considered one of the best hip-hop songs ever and for good reason. It captured the heart and soul of creativity. Beats, rhymes and life and a tribute to a fallen friend, Trouble T Roy, aka Troy Dixon, a dancer for Heavy D who died after an accidental fall during a tour stop in Indianapolis. Pete got to work and the rest is history.