Earlier this week, the NBA Board of Governors unanimously approved Michael Jordan's bid to become the owner. Jordan said in a statement that the sale culminates a dream of his to become majority owner of an NBA franchise.
This purchase completes a homecoming for Jordan, a native of Wilmington, N.C.; it began when he bought a minority stake in the Bobcats in 2006. But this move puts him in a precarious position; great athletes often fail as team presidents and administrators. Jordan has already given every indication that he will be a hands-on owner. How can he avoid the pitfalls that tarnished the good names of Hall of Famers like Elgin Baylor, Isiah Thomas and Kevin McHale? Here are a few recommendations.
1) Hire a staff of statisticians and consult with them often. No, those geeks with laptops can't tell MJ a thing about how to play basketball, but running a franchise and playing the sport are two separate skills. Running a franchise is more akin to running a business; and in business, if something works for the competition, then you have to at least consider adapting it for your team. Fifteen teams, exactly half the league, employ statistical advisers, and those teams have a composite winning percentage of .597 through last week's games. In addition, the teams that have invested most heavily into quantitative analysis—the San Antonio Spurs, Orlando Magic, Dallas Mavericks, Houston Rockets and Denver Nuggets—are perennial playoff teams.
Where the geeks can help is by differentiating between the varied records of collegiate prospects so that the team doesn't repeat a draft day mistake like picking Sean May when Danny Granger and David Lee were available. They can also project a player's worth over a five-year period so that teams don't overspend on marginal talent, a skill that all teams will have to master when the new collective bargaining agreement is implemented.
2) Manage expectations. The Bobcats are likely to make their first playoff appearance this season. With a little luck, they will make it next year, too. But without a substantial roster overhaul, that's the ceiling for this team. This isn't an old team, but the Bobcats aren't young and spry either. There isn't a front-court starter younger than 27, which means a good bit of the team's scoring punch will be on the decline by the 2011-12 season. Also, the team is over the salary cap until then. The Bobcats' bond with their fans needs to be on the basis of playing hard, not title dreams.
3) Have someone in mind to be the next coach of the Bobcats. Larry Brown, the current coach, is doing a great job, but he is known for not staying in one place too long. Since taking his first coaching gig in 1972, Brown has had 10 different employers and none for more than six years. The reason to be wary of Brown now isn't just his usual wanderlust; it's age, too. He turns 70 in September. Sooner or later, he will either weary of the travel or yearn for a different job. The teams who have benefited most from Brown's expertise were the ones who were ready for his inevitable departure.
G/O Media may get a commission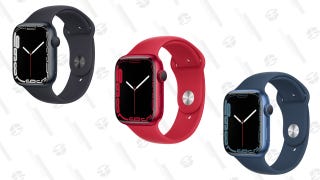 Up To $45 Off
Apple Watch Series 7
Jordan succeeded in reviving a moribund franchise when he arrived in Chicago to play in 1984. He failed at it during his tenure with the Washington Wizards, which included both executive and playing roles. If he uses his voracious charm to work the public relations angles and assigns qualified professionals, rather than cronies, to make good basketball decisions, then he stands a good chance at being a savior to the Bobcats franchise. If not, then he's just another great player showing that his skills are primarily on the court and not in the front office.
Martin Johnson is a regular contributor to The Root. Follow him on Twitter.
Become a fan of The Root on Facebook. Follow us on Twitter.
Martin Johnson writes about music for the Wall Street Journal, basketball for Slate and beer for Eater, and he blogs at both the Joy of Cheese and Rotations. Follow him on Twitter.