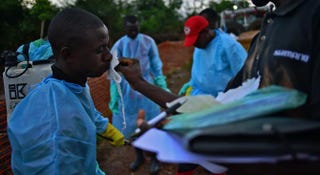 Despite fear and loathing among some residents, officials in Sierra Leone said Saturday that most of the nation's 6 million people were complying with an unprecedented three-day lockdown to help combat the spread of the deadly Ebola virus, the Associated Press reports.
Some people ran away from their homes, while others clashed with health workers trying to bury dead Ebola victims as the country struggled through the second day of the mandatory lockdown, AP reports.  The effort is being called one of the most sweeping lockdowns against a contagion since the Middle Ages.
Still, officials said most people were complying with orders to stay at home as nearly 30,000 volunteers and health care workers spread across the country to distribute soap and information on how to prevent Ebola, the report says.
The streets of the capital, Freetown, were empty Saturday except for the four-person teams going door-to-door with kits bearing soap, cards listing Ebola symptoms, stickers to mark houses visited and a tally to record suspected cases, AP writes.
The news service notes that the virus, spread by contact with bodily fluids, has killed more than 560 people in Sierra Leone and more than 2,600 in West Africa overall since the outbreak began last December, according to the World Health Organization.
Read more at the Associated Press.