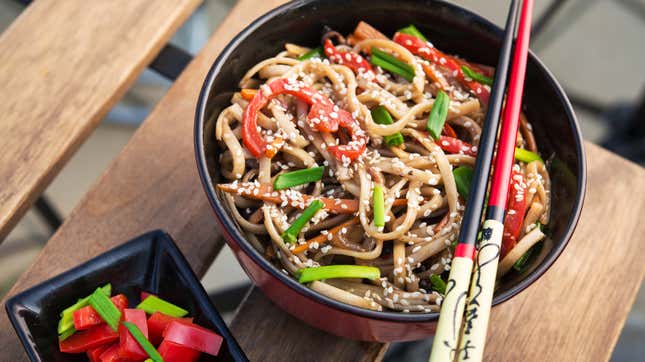 First date day, and I've already cheated—not that I'm a cheater, as I had to assure my date before my first day on Marco Borges' 22 Days nutritional plan was done, but some experiences are just too delicious to resist. In fact, this cheat felt so organic, I didn't even notice until after the fact. (Doh!)
Caleb McLaughlin on Lebron James' Biopic Shooting Stars, Stranger Things, & First Big Paycheck
Truth is, I likely shouldn't have even attempted to go on a date while also attempting to start a restrictive eating plan—and I had absolutely no plans to do so when I scheduled this series. But as any hopeless romantic knows, there are some opportunities you simply don't want to miss, so when presented with one who compelled me to accept my first date in over a year (by choice), it was time to take this show on the road—literally.
By literally, I mean that my nature-loving beau planned a trek through one of Chicago's gorgeous parks on one of its muggiest days, causing me to break into a fairly significant sweat as we wound our way to a Japanese garden neither of us had bothered to Google map. By the time we got there, I'd already logged 3,700 steps on my Fitbit and deeply regretted not bringing a ponytail holder—but hey, exercise. I was also regretting thinking a vegan protein powder shake would be enough sustenance for the morning, but as I prepared for an all-day date, the lowest-maintenance breakfast option in 22 Days' menu suggestions was as close as I could get to following it for the day. (Because let's face it: who has time to cook breakfast and apply a flawless face that you're going to sweat off within the first 20 minutes?)
If that sounds like a disastrous start to a day date, it was oddly an icebreaker. With my hair expanding by the second and my stomach audibly growling, there was no point in keeping up any pretense of being cool (because spoiler alert: I'm not). Instead, my wavy lob-turned-"Sideshow Bob" and I decided to roll with it, logging another 6,500 steps as we explored my college town-like neighborhood, finally settling in at an Asian fusion spot where I quickly scanned the menu for vegan options and kicked myself for not perusing the menu online ahead of time.
As it turns out, I was in luck, as the restaurant's drunken noodles happened to have a vegan base—which I confirmed after much back-and-forth with our very accommodating server. In fact, they were so appealing, we ordered two for the table—his with chicken, mine with veggies and tofu. Now, on the subject of soy: ahead of my mammogram scare this spring, I'd been a bit soy-wary, as I'd been told it can impact hormone levels. But as it turns out, in moderate amounts, soy may actually reduce incidences of breast cancer, or so says the Mayo Clinic. So, I soldiered on, only wishing my tofu was as flavorful as the rest of my dish.
Besides, in addition to not planning beforehand what I was going to eat, I also hadn't planned for the nagging headache that was threatening to interfere with an otherwise delightful afternoon. Whether it was a drop in my blood sugar, a protein craving, or dehydration, I'm not sure, but I quickly attended to all three, drinking copious amounts of water in addition to a lightly sweetened iced tea with my meal (which also provided the caffeine kick I was missing. Baby steps, y'all).
So, right about now, you may be thinking, "Where's the cheat, Maiysha? Sounds like you figured it out, even if you didn't go exactly according to plan." And it's true; I was doing pretty well—and enjoying myself, to boot—so I may have gotten a little too relaxed (though there are probably worse things to be on a date). When my companion, a native of the New York area, asked for my feelings on Magnolia Bakery, I wasn't even thinking about where the conversation was heading when we enthusiastically agreed that the famed banana pudding was probably the only thing either of us ever craved from the sweet spot.

Next thing I know, we had a window seat at their State Street location, two spoons, and a tub of creamy goodness to share. Let the cheating begin...
Thankfully, I rarely, if ever take more than three bites of a dessert, so my cheat was short-lived, and I was too caught up in conversation to consider it, anyway. Do I feel guilty about cheating? Nah...I did my best, and as it turned out, those few spoonfuls were the last thing I'd eat for the day, though the date lasted at least another six to seven hours. (Told you I was caught up in conversation!) I guess we'll consider that intermittent fasting.
So, first day down, where did I really fail? Not planning ahead or eating frequently enough, though I definitely won on exercise and staying amply hydrated, since our date was alcohol-free (which means we really liked each other). On to the next!