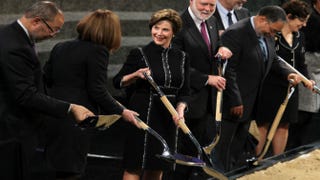 Because of their size, a railway train car and a prison tower are being installed during the construction phase of the Smithsonian's National Museum of African American History and Culture on the National Mall, the Associated Press reports.
Both are being lowered into the construction site by crane because they are too big to install after the museum is finished in 2015.
On Sunday, museum officials were overseeing the installation of a segregated Southern Railway train car made by the Pullman Company in 1922, the AP reports. The passenger car was overhauled to make seating comply with Jim Crow segregation laws at the time.
The other item is a prison tower from Angola, the Louisiana State Penitentiary. Curators had been looking for items to demonstrate the imprisonment of blacks in the 20th century and its links to slavery.
Read more at the Associated Press.