Two day care workers are facing charges in the death of a little 3-year-old girl who was left in a hot van in Florida for four hours Friday.
Louvenia Shantae Johnson, 28, and Cornel Antonio McGee, 27, are each facing charges of aggravated manslaughter of a child by culpable negligence after allegedly leaving little Jai'nier Barnes trapped inside the vehicle at In His Arms Christian Academy in Pensacola. Police say the little girl tried to escape the vehicle, to no avail, the Pensacola News Journal reports.
Authorities say that McGee, who was driving the van, picked up Johnson and Jai'nier while on his Friday-morning route. Upon arriving at the center, both adults initialed a transportation log saying that they had checked the van at 8:52 a.m. and that there were no children left inside, Escambia County Sheriff's Office Chief Deputy Chip Simmons said.
Simmons said that Johnson unbuckled Jai'nier from her car seat, but the toddler was still left in the vehicle, only to be found by another day care employee about four hours later, around 1:10 p.m.
Jai'nier was discovered in the driver's seat by the employee, who was getting ready for the afternoon route. The 3-year-old was rushed to the hospital, but she could not be saved. An autopsy showed that Jai'nier died of hyperthermia.
G/O Media may get a commission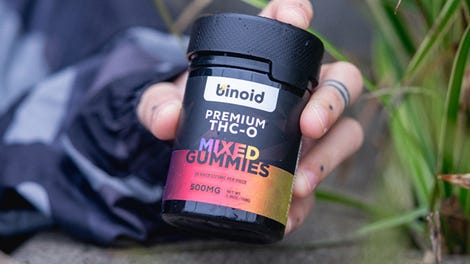 25% Off + Free Shipping
Binoid THC-O Gummies
"It's one thing to put yourself in the parents' position and wonder what happened to your child and know they were left in the car for four hours," Simmons said. "It's another thing to think about what that child went through, and that's a whole other amount of tragedy."
Simmons said that both Johnson and McGee told police they did visual scans of the van. Johnson also told investigators that she had mentioned during the drive to the center that Jai'nier had fallen asleep.
The day care requires that two staff members sign a log indicating that they've both checked to ensure that there are no children left behind in vehicles after transporting them, a policy similar to that required by the Florida Department of Children and Families.
"Besides the procedures the day care had, when you are in charge of taking care of specifically children that can't take care of themselves, you have a basic duty to care for these children outside of any established procedures that a business would have," Simmons said.
The News Journal reports that previous court records show that Johnson was cited before for leaving children unattended in a vehicle in a July 2014 incident. Johnson pleaded no contest and was fined.
In this case, the Department of Children and Families has issued an emergency suspension, shutting down the day care for at least 90 days as the agency looks into Jai'nier's death.
Read more at USA Today.