Have you been confused by the ever-changing narrative and details that keep getting added to the story of what happened the night Dallas police officer Amber Guyger shot and killed Botham Jean—an innocent black man who was minding his own business in his own apartment?
If you are, you are not alone. At this point, even law enforcement is confused by the round-robin tale that continues to evolve as the days go by. They are seemingly so confused, two different versions of her story appear on two different warrants related to the case, according to the Fort Worth Star-Telegram.
Guyger, 30, shot and killed Jean, 26, on Sept. 6 and was subsequently charged with manslaughter. She claimed that she mistakenly entered Jean's apartment thinking it was her own, and shot him because she thought he was an intruder.
The arrest warrant for Guyger, written by Texas Rangers Officer David L. Armstrong, is based on Guyger's account of what happened. She told authorities that she "inserted a unique door key, with an electronic chip, into the door key hole. The door, which was slightly ajar prior to Guyger's arrival, fully opened under the force of the key insertion."
G/O Media may get a commission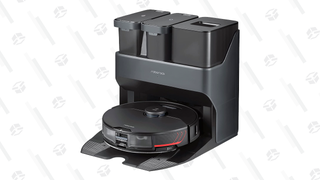 24% off
Roborock S7 MaxV Ultra Robot Vacuum and Mop
Once the door opened, Guyger said the apartment was dark and she thought "she had encountered a burglar, which was described as a large silhouette, across the room in her apartment."
Guyger claimed she drew her weapon, "gave verbal commands that were ignored by (Jean)," and then fired two shots. Jean was hit by one of the shots and died from his wound.
The arrest warrant was made public on Monday, and the version of the story it tells differs from the one which appears in a Sept. 7 search warrant that was signed by Judge Brandon Birmingham.
The search warrant says, "An off-duty Dallas Police Officer, who was wearing a full Dallas Police uniform, was attempting to enter apartment number 1478, with a set of keys. An unknown male, inside the apartment, confronted the officer at the door. A neighbor stated he heard an exchange of words, immediately followed by at least two gunshots."
In the arrest warrant, Jean is said to have been across the room. In the search warrant, he answered the door. It is also worth noting that the arrest warrant does not include the statements of any of the neighbors, some of whom said they heard a confrontation at the door before Jean was shot.
Lee Merritt, an attorney for the Jean family, said Monday that two sisters who are residents of the building gave statements to police that contradict the arrest warrant.
"One happened to be in a quiet room reading a book so she was in the best position to hear things," Merritt told the Star-Telegram. "She heard pounding at the door. The other one (witness) was in the living room (of her own apartment) watching TV. She also heard the same pounding at the door."
The warrant to search Jean's apartment was looking for specific evidence including shell casings, bullets, firearms, ballistic vest, keys, possible video, any narcotics and and other trace evidence such as blood.
The warrant became public record Wednesday, and according to Fox 4 News, the items retrieved from Jean's apartment were as follows:
2 fired cartridge casings

1 laptop computer

1 black backpack with police equipment and paperwork

1 insulated lunch box

1 black ballistic vest with "police" markings

10.4 grams of marijuana in ziplock bags

1 metal marijuana grinder

2 RFID keys

2 used packages of medical aid

Of all the warrants that have been issued in the case of Amber Guyger shooting Botham Jean to death, only two have been made public—Guyger arrest warrant and the warrant to search Jean's apartment. Everything else, according to Fox 4, is sealed.
So, it is unlikely that we will find out what was in Amber Guyger's apartment the night she shot Botham Jean. We probably won't learn what was in her pockets. We won't hear about how she stole out of the collection plate at church when she was younger.
What we will hear, however, are the continuously changing versions of her story.
We will also likely see and hear more stories that attempt to assassinate the character of Botham Jean and make him complicit in his own death as Dallas law enforcement scrambles to protect one of their own.
Stay tuned.