When Gerry Pickens arrived in Orting, Wash., to begin his job as a police officer—becoming the first black police officer in the town since its founding in 1889—city officials saw it as a milestone for a place that was once known as "the White City."
According to the Washington Post, one city administrator called Pickens' hiring "a proud moment for our modern, growing community." The police chief said that he had made a "tremendous value hire" by adding the experienced Pickens, who had handled the midnight shift in Atlanta for three years.
However, it wasn't long before things began to unravel for the 28-year-old, who began to notice discrepancies in his treatment, culminating in what Perkins believes is an undeserved termination.
Perkins is now saying he will file a wrongful-termination suit unless he is paid $5 million in damages. He claims that he was the butt of racist jokes, unfair treatment and wrongful termination just before the end of his one-year probationary period, the Post notes. 
The Post reports that one of the first jokes Perkins was subjected to started when a resident who had seen him on patrol called 911 to report "a police car being driven by a black juvenile." In the following weeks it became the norm for Pickens' co-workers to call him "black juvenile." 
G/O Media may get a commission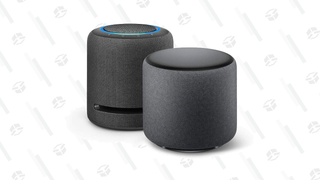 25% off - Prime Exclusive
Echo Studio + Echo Sub Bundle
He had also been assigned an older car on the force, with a battery that sometimes died when he turned on his police lights.
Pickens decided that he'd had enough when the police chief suspended him last April after he was accused of going to a local gym without paying for his visit. In the meantime, he noticed that a co-worker was able to continue working even while under investigation for using excessive force on a teen, the Post reported.
Pickens took his grievances to Mayor Joachim Pestinger, who insisted, "We don't see race here. … That's not an issue for us," the Post notes.
A little less than a week before his one-year probationary period was over, Perkins was terminated for "unsatisfactory performance."
Pickens' family urged him to seek legal help, but he declined and began applying for other jobs. However, one morning a neighbor brought his vandalized SUV to his attention. One side read "N—ger,"  while the other side declared, "Sue cheif [sic] and pay."
Perkins immediately called the county police and then a lawyer. The lawyer contacted the Tacoma NAACP and together they held a news conference, during which Pickens announced that he would be filing a suit for wrongful termination unless he was given $5 million in damages.
"They took my manhood, my income, my security," he told the Post. "They thought I was just some dumb black guy who would take unemployment and kick rocks."
However, that kind of expense could break the town, and city officials don't seem to be ready to back down yet. "We don't have $5 million to spare," Pestinger said. "I don't want to settle for one dollar, if it's my choice. … This is a false accusation, and I don't want to give it any merit."
Read more at the Washington Post.