Every year around this time, the big four broadcast networks­—ABC, CBS, NBC and Fox (I don't count the CW, since it dropped Girlfriends)—make a big deal of trotting out their new shows for the fall TV season. And while many network executives seem to have gotten the memo about diversity­—except, apparently, CBS, whose president has already apologized for its lily-white lineup of new shows—some of the most inclusive shows with black storylines and black actors in leading roles are found on cable networks. Case in point: OWN's Queen Sugar and FX's Atlanta have already captured sizable followings, proving once again that our stories can attract an audience.
But there are some new broadcast shows, as well as new shows on cable and Netflix, featuring black actors as more than just sidekicks that we think are really worth watching.

1. Issa Rae finds the funny in being Insecure.
Show: Insecure
When: Sundays, 10:30 p.m.; premieres Oct. 9 on HBO.
Why you should watch: We've followed the amazing Issa Rae ever since her web series, The Mis-Adventures of Awkward Black Girl, became an internet sensation. Shades of that show live on in her new HBO series, in which Rae plays 20-something Issa Dee, who awkwardly tries to navigate through life, love and friendship in Los Angeles. Much like her web series, Insecure offers a glimpse of blackness in all its complexities to show that we are not a monolith.
G/O Media may get a commission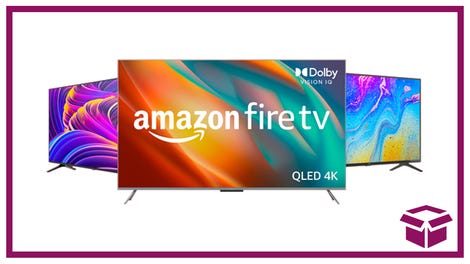 Ooh. stunning.
New Amazon Fire TVs
"We're just trying to convey that people of color are relatable," Rae said during a Television Critics Association panel to promote the show, according to the Los Angeles Times. "This is not a hood story. This is about regular people living life."

2. Marvel's Luke Cage breaks out on his own.
Show: Luke Cage
When: All 13 episodes drop Sept. 30 on Netflix.
Why you should watch: After playing an all-too-brief love interest in Netflix's other comic-book series, Jessica Jones, Luke Cage (played by the lovely and talented Mike Colter) gets a chance to tell his origin story. Cage, who has super strength and unbreakable skin, becomes the superhero vigilante Harlem needs as he takes on a crime lord called Cottonmouth, played by the equally lovely and talented Mahershala Ali (House of Cards).

3. Pitch  looks like it could be a hit.
Show: Pitch
When: Thursdays, 9 p.m. (although first episode is scheduled for 8:59 p.m.); premieres Sept. 22 on Fox.
Why you should watch: Kylie Bunbury plays Ginny Baker, the first woman to pitch in the major leagues. Early reviews have been positive, but more importantly, seeing a woman­—a black woman, at that—in a leading role can really be an inspiration for young girls. The trailers made me think of superstar Mo'Ne Davis, who wowed the Little League world with her pitching skills. Could this one day be her story?

4. Sterling K. Brown goes from chasing O.J. to This Is Us.
Show: This Is Us
When: Tuesdays, 10 p.m.; premieres Sept. 20 on NBC.
Why you should watch: Brown's performance as Christopher Darden in The People v. O.J. Simpson: American Crime Story may have been overshadowed by those of Courtney B. Vance (Johnnie Cochran) and Sarah Paulson (Marcia Clark). But Brown's sensitive portrayal of the black prosecutor who was labeled an Uncle Tom throughout the O.J. trial humanized Darden and turned him into a sympathetic figure who was a victim of Cochran's efforts to free his (guilty) client.
Brown appears to bring that same sensitivity to This Is a Us, a dramedy that features intersecting storylines of several people who share the same birthday. Brown plays a married father who decides to track down his own father, who left him at a fire station as an infant. Critics who've seen the show mention a surprise twist that has made this series one of the most buzzed-about shows of the season.

5. Mariah Carey, Taye Diggs and Phylicia Rashad drop by Empire.
Show: Empire
When: Wednesdays, 9 p.m.; returns Sept. 21 on Fox.
Why you should watch: Empire was kind of a hot mess after its super-hot first season. The second season finale ended with a cliffhanger that left us wondering who fell off the terrace: Boo Boo Kitty or Andre's wife, Rhonda? Since I have no love for either of those characters, who cares? Empire is at its best when Taraji P. Henson's Cookie Lyon is coming for someone's neck. Luckily, the addition of Carey, who plays a pop star named Kitty; Taye Diggs, who plays wealthy politician Angelo Dubois (and a love interest for Cookie); and Rashad, who plays Angelo's bougie mother (Clair Huxtable vs. Cookie? Yes, please), will ensure that Cookie sees plenty of screen time in the new season.

6. Laverne Cox does the Time Warp as Dr. Frank-N-Furter.
Show: The Rocky Horror Picture Show
When: Oct. 20 on Fox.
Why you should watch: Because Laverne Cox is amazing and she makes everything she's in better. In this reboot of the cult classic film, she plays the role made famous by Tim Curry, Dr. Frank-N-Furter, the sexually ambiguous mad scientist who entertains guests at a Transylvania science convention for the birth of a muscle-bound boy toy named Rocky Horror.

7. Damon Wayans Sr. helps reboot the Lethal Weapon franchise.
Show: Lethal Weapon
When: Wednesdays, 8 p.m.; premieres Sept. 21 on Fox.
Why you should watch: While son Damon Jr. was keeping the family name in the spotlight, Papa Wayans was keeping a low profile (except when he popped up to defend Bill Cosby), so it'll be fun to see what he'll do as Detective Roger Murtaugh, the role made famous by Danny Glover in the movie. Clayne Crawford (Rectify) plays rogue Detective Martin Riggs, who has nothing left to lose after the death of his wife and unborn child in a car wreck.

8. Michael Ealy is a suspect in Secret and Lies.
Show: Secrets and Lies
When: Sundays, 9 p.m.; returns Sept. 25 on ABC.
Why you should watch: I didn't watch the first season of this murder-mystery series starring Juliette Lewis as dogged Detective Andrea Cornell. But the second season features Michael Ealy (who we last saw in The Perfect Guy with Sanaa Lathan) as a husband who becomes the prime suspect when his wife is murdered.

9. Corey Hawkins plays beat the clock in 24: Legacy.
Show: 24: Legacy
When: Premieres Feb. 5 on Fox after the Super Bowl, and then Mondays at 8 p.m.
Why you should watch: Hawkins, whose breakout performance as Dr. Dre in Straight Outta Compton put him on everyone's radar, will pick up where Jack Bauer left off. Hawkins is playing an Army Ranger who has to stop a terrorist attack in the United States while also being hunted by a terrorist cell for the assassination of its leader.

10. Midseason is the new black.
Midseason replacements are those shows that usually come in after the first-tier shows either get canceled or go on early hiatus. For whatever reason, network executives have chosen to put several shows featuring black actors in prominent roles in midseason, which typically runs January through May. Here are a few shows that might be worth waiting for:

Premise: The story sounds familiar: An unarmed college student is killed by a cop. But the twist is the student is white and the cop is black. And the two Department of Justice officials sent to investigate the shooting­—played by Sanaa Lathan and Stephan James (Race, Selma)—are also black. The show was created by Gina Prince-Bythewood (Beyond the Lights, Love & Basketball) and her husband, Reggie Rock Bythewood, and if this show were in anyone else's hands, I'd give it the side eye. But I have faith that the Bythewoods know what they're doing. 

Premise: Lee Daniels, who gave us Empire, is at it again with another series that focuses on the gritty side of the music business. The show tells the story of Star, a troubled young woman who decides to go to Atlanta with her foster sister and best friend to form a girl group. They meet up with Carlotta (played by Queen Latifah), a surrogate mother from Star's past. The soundtrack and performances will probably be amazing.

Premise: Laverne Cox will make a historic appearance as broadcast TV's first full-time transgender character in this legal drama, starring Katherine Heigl and Dulé Hill (Ballers, West Wing).

Premise: Comedian Marlon Wayans gets a half-hour family show inspired by his real life. He plays a loving but immature dad who is co-parenting his two children with his ex-wife, played by Essence Atkins.

Premise: This period drama picks up where Romeo and Juliet left off. But in this scenario, Romeo and Juliet are an interracial couple, and their two families struggle to come to terms after their tragic deaths. The show is produced by Shonda Rhimes, and if anyone can make Shakespeare interesting, she can.