1. Jordan Clarkson hoops like how the screen would look in the '90s when you tried watching porn on a pay-per-view channel you didn't order.
2. I don't know when exactly the Golden State Warriors became so fucking insufferable, but during Game 1, I realized that I hate them as much as I hate the New England Patriots. Of course, this is a sports hate. I do not hate them, like, in life. But I wouldn't terribly mind if Draymond Green or Steph Curry lost a tooth. And just never, ever, ever found it. I actually want them to lose more than I want the Cavs to win. And I want the Cavs to win.
3. Last night felt scripted. I know it wasn't. But it felt like there were supernatural forces at play to prevent the Cleveland Cavaliers from winning. So many fluky things happened against them in the last 90 seconds that the results seemed preordained.
For instance, overturning LeBron James' charge was the correct call. Not going to sit here and say it wasn't. But with as much NBA basketball as I've watched, I can't recall a game where a block/charge reversal had that much of an impact on it. And it doesn't seem like the type of thing that could and should be reviewed.
If that doesn't happen, the Cavs get the ball back with the lead and the probability of them winning shifts dramatically in their favor. But it didn't and it didn't.
G/O Media may get a commission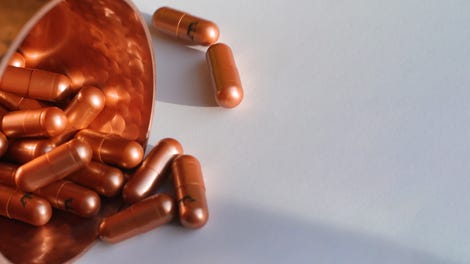 health
The Lyma Supplement
4. Look, when you're forced to rely on J.R. Smith, that means you're forced to rely on J.R. Smith. They should make that nigga Uber back to Cleveland. And not for Game 3. I mean right now.
5. I'm not saying that Tristan Thompson got himself ejected just so he could hop on a plane to Wyoming, but I'm not not saying that, either.
Also, I've watched the replay of the foul that got him ejected maybe 20 times now, and I still don't see anything other than a regular fucking foul. Fuck this.
6. A part of me believes that God made the Warriors win because lightsknit niggas were already taking too many Ls this week. Basically, the only way for the Cavs to win would be for Drake to roast Pusha T and restore balance to the universe.
7. Jordan Clarkson hoops how cats fuck.
8. Can you imagine a referee overturning a crucial game and possibly series-altering call against Michael Jordan the way that happened with LeBron?
9. Before the series, I considered writing a piece asking how many points LeBron would need to average per game for the Cavs to win. My answer was going to be something absurd, like 200. Turns out, that might not have been that absurd. If you get 51 points, eight rebounds and eight assists, you're not supposed to still lose by 10 points.
When the Cavs beat the Toronto Raptors so decisively last month, there were myriad comparisons of LeBron to Thanos. I think that analogy works, but for a different reason. We know that in the next Avengers movie, they'll find a way to beat Thanos. That's just how the movie and comic book universes work. And what if that's also LeBron's greatest legacy? Not to be on all-time-great teams, but to be a force so singular that it forces all-time-great teams to be created because that's the only way to defeat him?
10. This Cavs team has no margin for error against the Warriors. We knew this before, but what made last night so fucking irritating is that they actually had a chance to win when the consensus was that they didn't have a chance in hell. If they'd gotten blown out (like many of us—myself included—expected), then it would be, "Well, that was supposed to happen." And there were multiple moments when it felt like the Warriors were ready to do exactly that.

But then the Cavs would find a way to inch themselves back. And while it was mostly LeBron, it wasn't just LeBron. It was Kevin Love, FOR THE FIRST TIME IN HIS PLAYOFF CAREER, actually finishing in the post. It was George Hill and Larry Nance Jr. making plays. It was Tristan Thompson and Jeff Green not being terrible.
And then, right when we allowed ourselves to believe that they could actually win, those front-running motherfuckers, who only taunt and talk shit when they're up by enough points to be safe, reminded us that these Cavs aren't supposed to win.
But now I'm fucked up, because I believe that they can. Even though they won't.
(Well, probably won't.)