If you ask most black men what their style was like in the '90s, they will reference the hairstyle they were rocking first. Every decade has its list of "it" trends—the ones that instantly transport you back in time when you see them.
We polled some of the men in our lives who have been fly through the decades and asked them to describe their life in the '90s and which trend they were pulling off at the time. Many of these hairstyles are still hot today but made their mark decades ago.
Shayna Watson is a freelance style and beauty writer who can be heard saying "Natural hair is a lifestyle" at least once a day. A Pittsburgh native, she currently lives in a shoe-box apartment in Brooklyn, N.Y.—which is fitting, since she really loves shoes. You can check out her personal style musings on A Nu Creature and follow her on Instagram.
1. Caesar
G/O Media may get a commission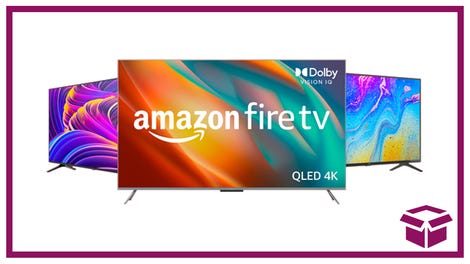 Ooh. stunning.
New Amazon Fire TVs
The transition from braids to the Caesar was huge in the '90s. Memphis Bleek reminded us of the upgrade factor of this style in his verse on Jay Z's "It's Alright": "I made this clear, back when shorty used to braid my hair/On the project stairs, once I crop to a Caesar Ma I don't need ya." Braids were fly, but once you got that low-cut with the edged lines, the game changed. And we assume he was rocking a Caesar underneath that do-rag all through the '90s?
2. Flat- and High-Top Fades
Kid 'n Play gave us the perfect spectrum of flat- to high-top fades. Throughout the House Party movies, we were able to witness various stages (and heights) of the fade while brushing up on our dance-battle routines. You can't even mention the '90s without this hairstyle.
3. 'Fro
Fashion is super-cyclical—about every 20 years we see a major resurgence of something that was hot two decades before. The picked-out Afros of the late '60s and '70s came back with a shaped, modern update for the '90s crowd. Snoop in a Karl Kani denim look may be the most '90s image we have ever seen.
4. Rat Tail
Our eternal high school crush, Theo Huxtable, touched on many of the hairstyles in this list but really brought it home with the braided rat tail that we started to see in season 5 of The Cosby Show. It's not always the easiest to see, but believe us, this piece of '90s gold (sometimes with a bead on the end!) is there. And have you seen how fine Malcolm-Jamal Warner is now, all grown up? Come through, Theo!
5. Cornrows
There were two schools of cornrows for the '90s: the straight backs, like Allen Iverson's, or the middle part, like Xzibit's. Both very '90s fly, both required you to find a braid girl—preferably with a front step to let you sit on while she worked on your braids. And if your girl had them skills, you got the zigzags, mini braid connections and patterns. We think we all remember where we were when Iverson finally cut off his braids in 2009. End of an era for real.
6. Baldie
Bald became a  sure-enough hairstyle in the '90s. From Michael Jordan to Tommy in Martin to Tyrese, we were all swooning over a shiny, luscious bald head. Many celebrity hotties have shaved off their hair since the '90s, the perfect marriage of fashion and function once those strands get a bit more slender with age.
7. Ramp Fade
There are very subtle differences between these top-fade styles, but best believe your barber better know exactly which version you were going for when it came time for that shape-up. The ramp fade was a slight high-top that was cut to have a slight incline to the front—like a skateboard ramp. Dwayne Wayne can show you better than we can tell you.
8. Low Fade With 360 Waves
This list would be horribly incomplete if we didn't mention do-rags, wooden-handled brushes and pomade in this list. All of those products were used in hopes of securing the deepest ocean of waves in the low fade. Like seasick, Dramamine waves. Nas has been riding this trend since he first popped up on the scene, and it just gets better with time.
9. Locs
Locs are timeless. Many locs in the '90s were a bit more rugged and free-form compared with the clean parts and thin twists of the modern style. Of all lengths and sizes, this style has been on the hot list for a long time, and it has definitely made its mark in pop culture.
10. Twists
Sometimes this was an intentional style. Other times it was the result of too many weeks between haircuts and boredom in class. Part free-form twist, part two-strand twist, these were for sure a '90s staple.