The Puerto Rican Electric Power Authority, amid mounting controversy surrounding its $300 million contract with Whitefish Energy, has decided to cancel the deal.

As CBS News reports, Puerto Rico Gov. Ricardo Rosselló announced early Sunday that he wanted the no-bid contract with the small, 2-year old Montana company to be canceled "immediately."
The governor's decision came two days after the Federal Emergency Management Agency said in a statement that it had "significant concerns with how PREPA procured this contract and has not confirmed whether the contract prices are reasonable." Last week, Republican and Democratic lawmakers called for an investigation into the contract and how it was awarded.
The company also got into an ugly Twitter spat with the mayor of San Juan, Puerto Rico, Carmen Yulín Cruz, threatening to pull its workers out of the capital city last week over Yulín Cruz's calls for transparency about the controversial contract.
With only two full-time employees at the time Hurricane Maria made landfall in Puerto Rico in September, Whitefish had never taken on a project as massive as the effort to bring power back to Puerto Rico's devastated power grid. The company also has ties to Interior Secretary Ryan Zinke, who is from Whitefish, Mont., where the company is located.
G/O Media may get a commission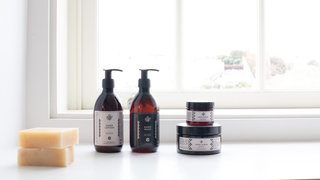 Exfoliate and Hydrate
The Handmade Soap Company
Whitefish Energy expressed disappointment with the governor's decision Sunday night. As ABC News reports, the company said scrapping the contract "will only delay what the people of Puerto Rico want and deserve—to have the power restored quickly in the same manner their fellow citizens on the mainland experience after a natural disaster."

PREPA Director Ricardo Ramos said that the cancellation will delay work on repairing the island's power grid 10-12 weeks, according to CBS.
The majority of Puerto Rico is still without electricity. While PREPA doesn't have exact estimates on how many people are without power on the island, the New York Times reports that the power authority is generating just 30 percent of its normal output.
With the exception of some commercial centers, hospitals and "a fortunate few private residences," more than a month after Hurricane Maria struck Puerto Rico, most of the island's 3.4 million residents are without light once the sun goes down, according to the paper.
PREPA anticipates that repairs to the power grid will cost at least $1 billion. Approximately $8 million has already been paid to Whitefish Energy, which has been on the island since Oct. 2.

Read more at CBS News and the New York Times.