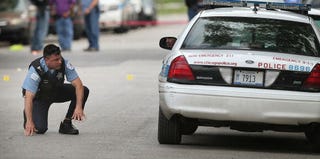 Michael W. Waters, founding pastor of Joy Tabernacle A.M.E. in Dallas, Texas, writes at the Huffington Post that it is incumbent upon churches, among others, to help turn the tide of youth gang violence before it eliminates an entire generation. He says it's a problem for all of America to tackle, not just cities such as Chicago and Dallas.
"Just last year Chicago had over 600 caskets/ Man killing's some wack s***/… Do you know what it feels like when people is passing?"

These are the heart-wrenching lyrics of Kanye West's "Everything I Am" from his 2007 studio album, Graduation. The Chicagoan's musings, now several years removed, retain relevance as Chicago continues along its seemingly unrelenting pace of homicides and violent crime. Although, overall, homicides are down this year, a recent holiday weekend in the city witnessed more bloodshed as 70 people were wounded and 12 people were killed, raising the city's homicides above 200. In 2012, Chicago recorded over 500 homicides.

Chicago's violence is attributed not just to the alarming accessibility of handguns but also to the dismantling of the hierarchy of street gangs, a result of so-called "street corner conspiracy busts" by police. As Tracy Siska, founder and executive director of the Chicago Justice Project noted in his paper "Gangs, Violent Crime, and the Unintended Consequences," "There is a significant increase in leaderless cliques of youths on the streets lacking any local affiliations to structure or restrain their actions. Cliques and individuals that once were affiliated now fight against each other as well as against other gangs."

In essence, young gangstas have been left to raise themselves while the O.G.'s (Original Gangstas) are away, either serving lengthy prison sentences, or dead, themselves the victims of violent crime. The dismantling of this criminal, yet structurally effective leadership apparatus has resulted in "orphaned" gangstas. Without O.G.'s to indoctrinate them with a street code of ethics, these youth have increasingly created deep factions among fellow gang members now warring with each other for control of the streets.
Read Michael W. Waters' entire piece at the Huffington Post.
The Root aims to foster and advance conversations about issues relevant to the black Diaspora by presenting a variety of opinions from all perspectives, whether or not those opinions are shared by our editorial staff.