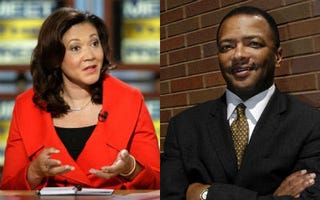 Broderick Johnson came to national attention when his wife, Michele Norris, a prominent National Public Radio anchor, announced that she was taking a leave from her anchor role at the network's flagship show, All Things Considered. Norris stepped aside to avoid a potential conflict of interest after Johnson, a successful Washington lawyer and entrepreneur, signed on as a senior adviser to President Obama's 2012 re-election campaign.
Johnson — who will work alongside David Axelrod, Obama's senior strategist and longtime adviser, and Jim Messina, the 2012 campaign manager — is a seasoned political operative. He served in senior roles in the Clinton White House, acting as the president's principal liaison to the House of Representatives. He was an adviser to John Kerry's 2004 campaign for the White House and was a partner at Bryan Cave, a prominent national law firm. "Broderick's sharp instincts and seasoned political judgment are a welcome addition to our campaign," says Messina. "He will play a vital role."
The announcement of Johnson's appointment set off a minor media backlash, especially because the campaign played down his earlier role as a lobbyist at Bryan Cave. During Obama's first presidential campaign, he had vowed that lobbyists would not run his White House and refused to accept campaign contributions from K Street. Johnson's role will be limited to the campaign, not the president's legislative agenda.
Rep. Emanuel Cleaver (D-Mo.), chairman of the Congressional Black Caucus, answered the critics with strong support for Johnson. "This is an excellent hire and one that will assuredly pay dividends. Johnson's work as a Washington attorney and legislative adviser means that he understands the landscape of Washington. The fact that he recently recused himself of all ties to his lobbying firm before accepting a role with the president's team is a testament to his high ethical standards."  
I interviewed Broderick Johnson to get his insights on the campaign ahead, on being the husband of a successful black woman and serving the nation's first African-American president.
The Root: As senior adviser to Obama's 2012 campaign, do you think the slogan "Hope and change" is still relevant in light of the systemic economic malaise the nation is experiencing? How would you alter the message going forward?
Broderick Johnson: During the campaign, then-candidate Obama was clear that our nation faced great challenges and that we couldn't wait any longer to begin tackling them, even if they couldn't be solved overnight.  He shared his vision for how to confront those big challenges by taking immediate steps to fix the economy and make health care more affordable and accessible. But he believes that we need to set the bar higher than just recovering from the recession.
We need to secure our middle class and help those determined to rise above poverty. Our mission is to build an economy that rewards hard work and responsibility. And we intend to reach the goals laid out by the president: to out-educate and out-innovate the world.
TR: As an African American who has been successful and married to an equally successful African-American woman, do you think there are unique challenges that blacks in corporate America are still facing? Or even those in power circles in politics and Washington?
BJ: First, let me say that the Lord has blessed me with an incredible wife — loving, gifted and compassionate. With all her career opportunities and pressures, she has not wavered in putting her family first.
I've had wonderful career opportunities: I've lived and worked in the nation's capital as a senior staffer on the Hill, in the White House and on presidential campaigns, as a law-firm partner and entrepreneur. And yet, too often I'm still breaking new ground as an African-American man. I see much change for the good ahead, but it will take vigilance, commitment to excellence and courage.
TR: With unemployment and underemployment disproportionately affecting the black community, will your strategic advice for the campaign include a unique strategy to secure the votes within African-American, Latino and minority communities?
BJ: [When I was] growing up in Baltimore from the mid-'50s through the mid-'70s, my parents did all they could to secure the best future for my sisters and me. Though we often faced financial hardships, they sacrificed so we could attend parochial schools, live in safe neighborhoods and dream big things.
My dad actually passed away just months before Barack Obama was elected president. The values he and my mom instilled in me require that I offer my voice and advice throughout the campaign about our obligation to all Americans, but especially to those at the bottom of our economic ladder. Black, Latino and other minority communities continue to have great faith in this president and his agenda. I intend to do all I can to inspire them to demonstrate that faith again at the ballot box next November.
TR: Like Barack, you answer to a Michele. Is there anything you'd like the public to know about you and your Michele?
BJ: We are a happy couple, raising beautiful children. People often only talk about the African-American family in terms of its dysfunctions: what is wrong or what is lacking. But my wife just published a book called The Grace of Silence, which explores the stories of African-American families and her family in particular. I am proud that our lives tell a story of a strong, happy black family.
Edward Wyckoff Williams is an author, columnist and a former investment banker. Follow him on Twitter and on Facebook.
Edward Wyckoff Williams is a contributing editor at The Root. He is a columnist and political analyst, appearing on Al-Jazeera, MSNBC, ABC, CBS Washington and national syndicated radio. Follow him on Twitter and on Facebook.