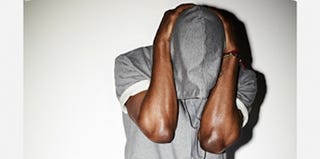 On Sunday, fashion heads were finally able to get their hands on the highly anticipated collaboration between Kanye West and French fashion brand A.P.C. in stores around the country and online, causing the label's U.S. website to crash. Considering one of the prized items in the collection was a short-sleeve, heather-gray hoodie (pictured above), the timing of the release this past weekend caused controversy online. But what also riled people up was the line's high price point, and according to the fashion team at Complex, Kanye West is a big reason why.
APC's price point is up there, but not as expensive as designer brands like Givenchy or Louis Vuitton. Still, this isn't an easily affordable collection. T-shirts alone are $120, jeans are $265, and hoodies are going for $250-$280 …


The craftsmanship of the clothes is decent, like other brands in this price range APC sourced factories in Eastern Europe. Manily Romania for the hoodies, Macau (where their jeans are already made), and Portugal for the T-shirtsI. You're not exactly paying for first-world wages for the garment works, but they're also not being made in dangerous Bangladeshi sweatshops either. It's a good trade off between completely shoddy work and true "artisan" level construction. It doesn't exactly mean the clothes merit the price, but having Kanye's name on the tag probably drives the final cost up a bit. 
Read more at Complex.
Jozen Cummings is the author and creator of the popular relationship blog Until I Get Married, which is currently in development for a television series with Warner Bros. He also hosts a weekly podcast with WNYC about Empire called Empire Afterparty, is a contributor at VerySmartBrothas.com and works at Twitter as an editorial curator. Follow him on Twitter.