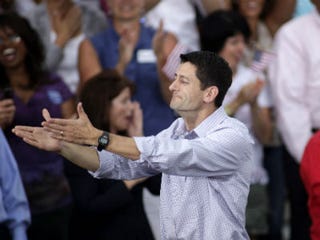 A Saturday-evening email from President Obama's re-election campaign urged recipients to "Get to know Paul Ryan," but the introduction to Mitt Romney's choice to fill the No. 2 slot on the Republican presidential ticket was less than friendly, according to Politico.
"On so many issues, Paul Ryan, like Mitt Romney, has taken extreme positions that are out of touch with the values most Americans share," senior Obama-campaign adviser David Axelrod wrote. The message includes a link to an ad calling Ryan "the mastermind behind the extreme GOP budget plan" and wrapping up with "Mitt Romney and Paul Ryan: Back to the failed top-down policies that crashed our economy."
While there was no shortage of commentary this weekend on the pros and cons of Ryan's candidacy and the policies he's endorsed, the way these things are defined and communicated by the Obama campaign will be one of the most significant determinants of how voters understand Ryan and whether he and Romney ultimately make it to the White House. That makes this first response to Ryan worth a watch. Check it out here:
Read more at Politico.