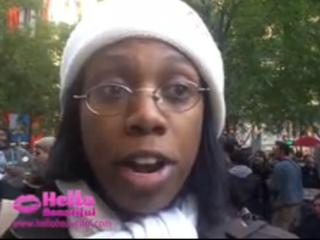 The protesters Hello Beautiful interviewed in New York provide an additional challenge to the image of the Occupy Wall Street movement as a "free-for-all for privileged kids." Perhaps just as important, they remind us that for black women, working to remedy wealth disparities and crushing poverty is nothing new.
From Hello Beautiful:
They came from New Jersey, Harlem, the Bronx and as far away as Seattle. The small, but diverse group of black women we met at Occupy Wall Street this weekend included students, a member of the Board of Ed, community organizers and church elders. Ranging in age from 19 to 62 years old, they gathered in New York's Zuccotti Park with a common goal: to lend their voices to the swelling demand for social and economic change.
Read more at HelloBeautiful.
In other news: Occupy Oakland Protesters Shut Down Port.