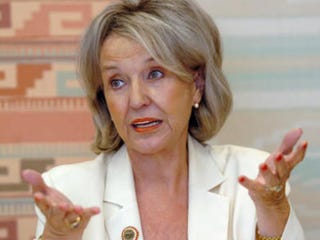 Arizona Gov. Jan Brewer appeared on MSNBC's Morning Joe on Tuesday morning to discuss her new book, Scorpions for Breakfast, and strongly defended her aggressive border-control policy with the implementation of the controversial anti-immigration law SB 1070. "We are not racist," Brewer insisted. "We are not bigoted, but we know that, quote, the liberal media generally wants to shove that race card out there. They want to throw it around very, very loosely, to shut down the debate …
"I believe that 70 percent of people in America, they understand that, and they agree with us in Arizona," argued Brewer. "Every poll will tell you: They agree with what we're doing."
Host Joe Scarborough asked Brewer where she was getting the 70 percent number, but she could not cite her statistics.
Source: Mediaite.
Visit msnbc.com for breaking news, world news, and news about the economy
Read more at Mediaite.
In other news: Cain and the Koch Brothers: It's About the Bottom Line.
Like The Root on Facebook. Follow us on Twitter.