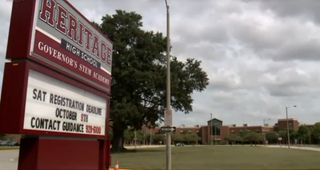 A high school history teacher in Newport News, Va., is under fire after she used the n-word during a class discussion about racial prejudices, according to NewsChannel 3.

The incident occurred while Heritage High School teacher Lynn Pierce, who is white, was conducting an Advanced Placement history lesson on "Native Americans, and a student asked her, 'What's the big deal with calling them Redskins?' " the teacher told the television news outlet. The student was referring to the Washington, D.C., football team.

She then tried explaining why it is inappropriate to use names that reflect prejudice against any racial group, the report says. She reportedly asked: "What would you think if someone started a team called the Newport News N—gers?"
Pierce, who has worked as a teacher for 40 years, was placed on leave after a student complained that what she said was offensive. School authorities are investigating the incident.
Meanwhile, a petition titled "Bring Back Ms. Pierce" has garnered nearly 250 signatures, the news station reports.
Read more at NewsChannel 3.