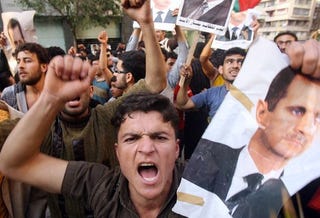 CNN is reporting that the international cries for Syria's government to end a bloody crackdown on civilians could intensify Wednesday, as activist groups reported fresh onslaughts in several cities. The U.N. Security Council is expected Wednesday to follow up on a statement last week that condemned the Syrian regime for attacks on peaceful protesters and called for both sides to end the violence.
Meanwhile, the United States is moving toward issuing an explicit call for Syrian President Bashar al-Assad to step down, U.S. government sources told CNN Tuesday. The move is expected to be announced in the coming days, after U.S. officials consult with the Security Council, the sources said. They said the question of whether to call for al-Assad to leave office has been under discussion over the past few weeks.
While international leaders mull their next steps, heavy gunfire, explosions and tanks permeated the eastern city of Deir Ezzor Wednesday, an activist group and a resident said. Businesses and homes were destroyed in the explosions.
The pro-democracy movement is still spreading. and countries like Syria are attacking protesters as opposed to working with them to reimagine their country. The U.S. should speak out against violence, oppression and tyranny, and if that means calling for al-Assad's resignation, then so be it.
Read more at CNN.
In other news: Moody's: Student Loans May Be Next Financial Crisis.