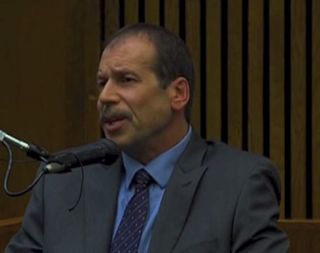 Detroit-area homeowner Theodore Wafer, who was convicted in the death of 19-year-old Renisha McBride, has been sentenced to at least 17 years in prison, the Associated Press reports.
Wafer, who was convicted on all three charges—second-degree murder, felony firearm and manslaughter—apologized to McBride's family before his sentencing, acknowledging that he was responsible for killing someone who was "too young to leave this world."
In his apology, Wafer said, "I will carry that guilt and sorrow forever," according to AP.
Wafer's attorney Cheryl Carpenter had pleaded for a six-year sentence, arguing that given the 55-year-old's age, anything more would essentially be a "life sentence," AP notes.
The prosecution won that call in the end with their recommendation of 17 years. According to a live blog by the Detroit Free Press, Wafer's full sentence ranges from 17 to 30 years. He was sentenced to 15-30 years in prison for second-degree murder, plus two years for the felony firearm charge. Wafer also got 7-15 years on the manslaughter charge, but that will run concurrently with the other sentences.
Wafer will qualify for parole after serving his minimum sentence, barring any problems, AP notes.
Read more at the Associated Press and the Detroit Free Press.
Read more at The Root: Renisha McBride Porch Shooter Found Guilty and Renisha McBride's Killer to Stand Trial