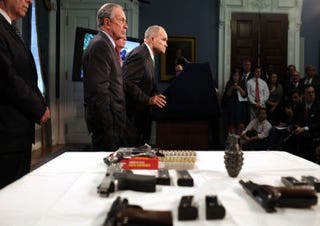 In his Miami Herald column, Leonard Pitts Jr. tackles the constitutionality of the New York Police Department's stop-and-frisk policy after federal agents arrested an officer on charges of violating the civil rights of an African-American man. The officer arrested the man on false charges after the civilian asked for his name and badge number in response to mistreatment.
There has been, after all, an appalling amount of forgetting where [the Fourth Amendment] is concerned. And New York City has become the epicenter of the amnesia. Yes, the "stop and frisk" policy of questioning and searching people a cop finds suspicious is used elsewhere as well. But it is in the big, bruised apple that the issue now comes to a head. 
Federal agents recently arrested a New York City cop on charges of violating the civil rights of an African-American man. Officer Michael Daragjati allegedly stopped the man in April and threw him against a parked van to search him. No drugs or weapons were found, but Daragjati reportedly became angry the man questioned his rough treatment and requested the officer's name and badge number. So Daragjati ran him in on a charge of resisting arrest. Later, talking on the phone to a friend, he bragged that he had "fried another nigger" and that it was "no big deal." This was overheard by the feds, who had him under surveillance in a separate investigation.
Let no one fix his or her mouth to pronounce themselves "surprised." Blacks and Hispanics have complained for years about the selective attention they get from police. Giving cops the power to randomly stop and search pedestrians they find suspicious could not help but exacerbate the problem.
Read Leonard Pitts Jr.'s entire column at the Miami Herald.