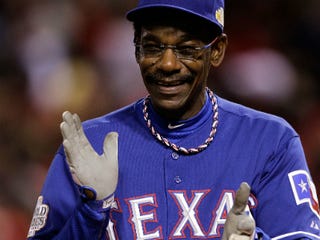 Twice last week the Texas Rangers were one strike away from winning the World Series, as close as a team can possibly come. But they didn't get that one strike against the St. Louis Cardinals in Game 6 — in neither the ninth inning nor the 10th inning — proceeding to lose on Thursday night and again on Friday night.
But instead of being commended for piloting the Rangers to the World Series for the second consecutive season, manager Ron Washington was subjected to widespread second-guessing for his decisions in Game 6.
His use of relief pitchers and pinch-hitters was called "baffling," as was his judgment in choice of players and when he chose them. Strategic moves that backfired in Game 7 were dissected, too.
Observers often display the 20-20 vision of hindsight when things don't work as planned. And Washington was already on record about his managerial style, stating that he uses his instincts more than conventional wisdom.
"I do a lot by my gut," he said before Game 6. "There may be a point where someone says, 'You should have done this.' Well, you don't know my players. Maybe the strategists say that's what you do, but the flow of the game says something different. I'm in the flow."
Team officials deserve credit for sticking with Washington two years ago, when he confessed that a random drug test might come back positive for cocaine use. It did, and he offered to resign. Most teams would have fired their manager under those circumstances, and a host of voices said that Texas should. But the Rangers' brass got behind him and was rewarded with the franchise's first-ever World Series appearance last season.
Having overcome the failed drug test, Washington must defeat the notion that he's merely a "player's manager," a common stereotype of African-American coaches and managers, supposedly short on intellect and acumen. The label was placed on Cito Gaston — the last non-Yankees manager to win back-to-back American League pennants — and it's also on Dusty Baker, the other black manager to reach the World Series.
Washington is at the top of his profession. But his fight for respect continues.