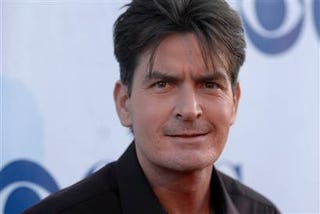 Charlie Sheen is a well-documented Hollywood bad boy cum highest-paid actor in television. When news broke of his alleged abuse of his wife over Christmas, people weren't particularly surprised or outraged.
In fact, paralleling his latest dust-up with the Tiger Woods scandal, which is reasonable, though imperfect in relation. Tiger's in trouble because he couldn't keep his putter in the bag, while Charlie allegedly threatened his wife with a deadly weapon. Both were in domestic disputes but were on different sides of the equation (read: Charlie allegedly threatened; Tiger may or may not have gotten swung on).
A more reasonable parallel seems to be with Chris Brown who, if you haven't heard, beat his then-girlfriend Rihanna to a pulp before the Grammys this year. Both were aggressively involved in a violent domestic matter, but early indictations say Charlie's gonna skate. Why?* For the same reason Brown hasn't and Tiger won't. Linda Stasi of The New York Post explains it well
His rise up the Hollywood ladder — and corresponding crime wave — began in 1990 when he shot his fiancée Kelly Preston "by mistake." In 1991, he was rewarded with a starring role in "Rookies."

In 1995, he was outed as one of Hollywood Madam Heidi Fleiss's deepest-pocketed clients ($110,000!). He cooperated with the police and testified against her at the trial.

That same year he sailed through the assault of a UCLA student who refused to have sex with him by settling out of court. In 1996, he was "punished" with a big gig on "Spin City."

Enter 1997 and he knocked his then-girlfriend Brittany Ashland to the floor and split her lip. He got a year's suspended sentence, two years probation, a $2,800 fine and a gig narrating "Discovery Mars," a TV special. Not bad for a high school dropout.

…


Sheen never pretended to be a good guy. He's a spouse, drug and alcohol abuser — who is charming enough on camera to pass as a bad boy instead of a bad man in real life.
Breezy and Tiger were some of the "good guys", or so we thought. The repercussions of bad boys being bad? Minimal
*No; the white thing doesn't hurt Charlie either, but we're trying to be a touch more nuanced these days.