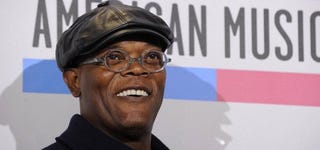 Darren Franich of Entertainment Weekly is reporting that the Guinness Book of World Records has declared seminal actor Samuel L. Jackson the highest-grossing actor of all time. The bulk of Jackson's estimated $7.2 billion gross comes from big franchise films where he had supporting roles.
Franich writes:
Jackson has been simply omnipresent for almost two decades now. Yes, there are plenty of horrible films on his IMDB page — The Man, Formula 51, freaking Basic. On one hand, I want to point you to the great Jackson performances: His cerebral villain in Jackie Brown, his fascinating geek-malcontent in Unbreakable, his freaked-out cop in the underrated The Negotiator. But really, the greatness of Jackson lies within the smorgasbord. His mere presence makes bad movies feel more self-aware than they should — recall his speech in Deep Blue Sea, or the way he single-handedly turned Snakes on a Plane into the first great Hollywood meme.
Say what you will, but Samuel L. Jackson gives his all to movie roles, including understated performances in Eve's Bayou and The Red Violin. It is no surprise that he would be the highest-grossing actor of all time, because quite simply, he is one of the best actors of his time.  
Read more at Entertainment Weekly.
In other news: John Singleton to Direct Tupac Biopic.