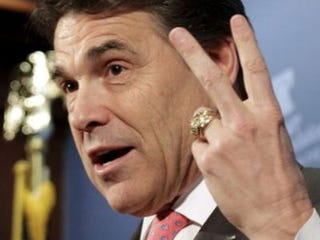 Texas Gov. Rick Perry is riding off into the sunset.
Perry, who entered the race to tons of buzz last fall, today announced the end of his presidential campaign. He will hold a press conference in Charleston, S.C., today to announce his plans. The move is not surprising to many who think he should have dropped out a month ago so that his supporters could rally behind another candidate. Perry finished sixth in the Iowa caucuses. He recently finished a distant fifth in the New Hampshire primaries.
After jumping to the top of the polls last August when he entered the race, his campaign suffered after a series of debate missteps and campaign flubs.
Perry has thrown his support behind Newt Gingrich. He endorsed the former House speaker, who seems to be gaining momentum in South Carolina.
Will his endorsement push Gingrich over the top or will it count for nothing?
Read more at CBS News.