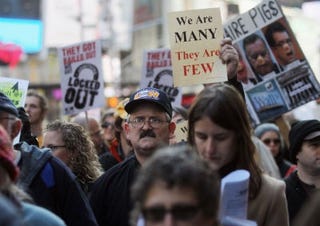 In a blog entry at the Huffington Post, author and president of RebuildtheDream.com Van Jones says that the Occupy Wall Street movement has triggered a major shift in the national dialogue on inequality, the economy and democracy. Now it's time to begin talking about solutions, he says.
… Now it's time to begin a conversation about solutions — solutions big enough to fit the scale of the problems that Occupy Wall Street has highlighted. Fortunately, the American Dream Movement spent this last summer taking on this very challenge. We are a vast, growing network of progressive organizations and individuals. We are fighting to renew the American Dream and return our country to the principle of liberty and justice, for ALL (not for some). 
We launched in June 2011, with the support of more than 70 national organizations, including MoveOn.org, Planned Parenthood, Center for Community Change, Campaign for America's Future, SEIU and AFL-CIO. Since then, more than half a million people have joined our ranks and become members on www.RebuildtheDream.com. We now have membership in every congressional district of the country. 
In July, the American Dream Movement created an inclusive process to forge a jobs agenda that would put the country back to work without hurting essential programs like Medicare and Medicaid. More than 131,000 people got involved, both online and in person (NOTE: That is nearly three times the number of people who helped craft the Tea Party's famous"Contract from America.") Participants generated more than 20,000 ideas, then rated and ranked them to identify the best ones. 
Read Van Jones' complete blog entry at the Huffington Post.