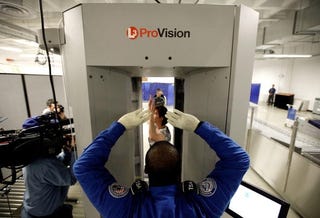 Democratic Defend TSA Nominee Southers
Democratic U.S. Senators have come to the defense of Erroll Southers, President Barack Obama's nominee to head the Transportation Security Administration. The nominee, a former FBI agent, had come under fire for inconsistent statements to Congress about accessing the criminal record of his estranged wife's boyfriend. The inconsistencies were first reported by the Washington Post .) Apparently, Southers first told investigators that he had asked a police offer to look up information on the boyfriend. Later he amended his statement to say he had accessed the records twice himself. Southers blamed the difference on a poor memory. Southers is assistant chief of intelligence and homeland security with Los Angeles World Airports police department, the largest airport police force in the U.S.
His nomination gained new scrutiny in the wake of the Underwear Bomber incident. It turned out that his nomination has been held up for months by Republican Senator Jim DeMint, who fears that Southers may allow the 100,000 TSA employees to join a union. In a statement Friday, he said Southers "has not been forthcoming about whether he'll give union bosses control of our airport security, which is one of the most important decisions he'll make as head of the TSA."
Democrats argue the nomination urgently needs to move forward. "As recent events prove, this position is too critical to be held up over crass political issues," Sen. John D. Rockefeller IV (D-W.Va.) said in a statement to The Post. "There is no debate over Mr. Southers' qualifications."

New York's First Asian Comptroller Takes Office
New York City has sworn in the first Asian elected to citywide office, signaling the changing demographics of the largest U.S. city. John C. Liu was sworn in as city comptroller, succeeded William Thompson, an African-American who made a surprising strong, but ultimately unsuccessful, race against Mayor Michael Bloomberg, who spent more than $100 million.
Liu, the son of Taiwanese immigrants, upset David Yassky, a fellow member of New York's City council, who had the endorsements of the city's major newspapers. He had strong support in the election from Koreans in his Queens neighborhood, Chinese in Manhattan and Pakistanis in Brooklyn.
Liu also won significant backing from African-American and Hispanic politicians and voters. Asians are just 12 percent of the city's voters, but Liu has long been outspoken on issues that affect all minorities. His visibility could make him a contender for the mayoral role in 2014, when Bloomberg's third term expires.

Iraqis Angered by Blackwater Decision
Will Iraqis understand the vagaries of American justice? There was understandable outrage in Iraq when the news broke that a U.S. federal judge had dismissed all criminal charges against Blackwater security guards who opened fire on unarmed civilians in 2007 and left 17 dead and many more wounded.
The judge ruled that compulsory statements made by the private security guards had been used against them, compromising their right to a fair trial. Many legal experts had anticipated the decision, saying a rule requiring guards to be debriefed immediately after an incident put them in a compromised condition. This will not provide much comfort to those who were victims of the shooting spree, which heightened anti-American feelings in that country. "What are we – not human," asks Abdul Wahab Khader, a 34-year-old bank employee who was one of 20 people wounded in the melee. "For America, the land of justice and law, what does it mean to let criminals go?"
Prosecutors have not indicated if they will appeal the decision, but the ruling is likely to be a blow to the fragile relationship between the U.S. and Iraqis skeptical of the lessons in democracy and law and order the U.S. has been trying to encourage.

Rush Limbaugh Loves U.S. Health Care
You knew Rush Limbaugh wouldn't pass up an opportunity to bloviate – even from his hospital bed. The right-wing radio host was released from hospital a few days after checking in with chest pains. Limbaugh, who has been railing against President Obama's health care reform plan, didn't waste any time defending the status quo. Doctors were unable to find a reason for the acute chest pains that Limbaugh suffered.
Apparently, they were not pangs of conscience. "The treatment I received here was the best that the world has to offer," he said. "I don't think there's one thing wrong with the American health care system. It is working just fine." Of course, the unofficial head of the Republican Party has the best health insurance that money can buy.