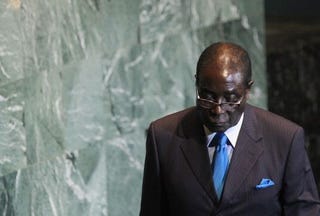 South Africa's Mail & Guardian is reporting that Zimbabwe President Robert Mugabe has warned Switzerland that he will retaliate after his wife and top officials were denied visas to attend a United Nations meeting in Switzerland.
Mugabe's wife, Grace, his personal bodyguard and four top officials were denied visas to attend a meeting of the UN's International Telecommunications Union in Switzerland, causing the trip to be canceled, according to state media. The six are on the sanctions list imposed by the European Union and backed by Switzerland, which is not an EU member. Switzerland has not commented on the visas.
Mugabe stated, "Now they are showing that they are vicious and we will reciprocate because they have their properties here," Mugabe said in the state-run Herald newspaper.
Swiss food giant Nestlé operates a factory in Harare, which produces cereals and powdered milk for the local market.
Well, they definitely crossed the wrong person. How crazy is it for the president of a country to threaten another country over something like denying a visa for a meeting? Mugabe still hasn't said why it was necessary for all of those folks to travel to the meeting. Perhaps it is because his health is declining, which the dictator fails to acknowledge. Whatever the case, Switzerland and the rest of the world have been warned by a man possibly in his last days, yet certainly still focused on control and power.
Read more at Mail & Guardian.
In other news: Samuel Jackson: Highest-Grossing Actor of All Time.