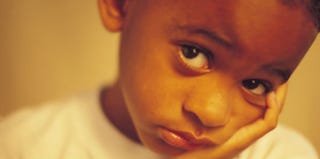 Black and Latino children with autism and other disorders don't have the same access to specialists and care as white children with the same diseases, a recent study in the journal Pediatrics suggests.
According to CNN, minority children with autism are often misdiagnosed or not diagnosed as early as white children. Specifically, African-American children aren't diagnosed until roughly 18 months later.
Unlike their white peers, blacks and Hispanics also don't receive standard medical tests, such as colonoscopies and endoscopies, for other conditions. Medical experts are not sure what is to blame for the medical disparities between races.
The exact reasons behind these findings remain unclear. One explanation may be that minority families face greater barriers in accessing specialist services. Lower numbers of local specialists, transportation issues, and lack of a regular health care provider have all been identified as problems for minority children.

Additionally, minority families may have beliefs that lead to the use of non-traditional services, or attribution of a child's symptoms to non-medical causes. Even when obtaining referral to a specialist, children from minority families can face challenges in maintaining regular follow-up.
Read more at CNN.