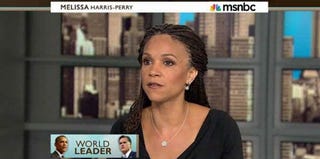 On Monday, President Obama and challenger Mitt Romney will have one of their last chances to attract voters, in the final presidential debate. MSNBC host Melissa Harris-Perry hopes that the discussion — which will no doubt swirl around the president's characterization of the events in Benghazi, Libya — won't be so much an argument focusing on who said what when, but rather on each candidate's plan for the future.
Watch Melissa Harris-Perry and her guests discuss the possibilities for tomorrow night's exchange:
Visit NBCNews.com for breaking news, world news, and news about the economy
Watch more at MSNBC.
Like The Root on Facebook. Follow us on Twitter.