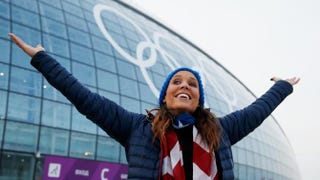 She isn't that good at bobsledding, but Lolo Jones is always good for a laugh or a cringe.
The Olympian and controversial tweeter is back at it again, this time setting her crosshairs on rapper Drake and singer Rihanna.
After ESPN announced that Drake would be the host of this year's ESPYs, the awards show that recognizes excellence in sports, the track star-turned-bobsledder took a shot at the new couple via Twitter: "It's amazing that Drake is hosting the @Espys but it's gonna be tough for him to hand out all those awards to Rihanna's ex boyfriends," Jones wrote.
Rihanna has dated a couple of sports figures, most notable among them the Los Angeles Dodgers slugger Matt Kemp. It is unclear why Jones has decided to kick up a cyberbeef with the rapper and his new lady.
This isn't the first time the hyped-yet-mediocre Olympian has used her Twitter account to insert foot into mouth.
During the Trayvon Martin trial last year, Jones tweeted: "Rachel Jeantel looked so irritated during the cross-examination that I burned it on DVD and I'm going to sell it as Madea goes to court."
In October she tweeted to a fan with curly hair who had dressed herself like Jones for Halloween that she needed to get a relaxer.