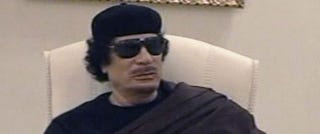 Libyan leader Muammar Qaddafi, who had not been seen in public since an April 30 airstrike killed one of his sons, made a surprise TV appearance on Wednesday.
Qaddafi's absence from the public eye led to rumors that he may have also been killed in the airstrike, but his appearance in his trademark brown robe, dark sunglasses and black hat made it clear that he's still very much alive. He was shown greeting a group of tribal-leader supporters.
Four months after the revolt against his rule began, Qaddafi is still holding tenaciously onto power despite weeks of NATO strikes on his military and command structures. The conflict has now entered stalemate. Qaddafi controls most of the west of the country, while the rebels have a stronghold in the east and a few pockets in the west.
Thousands of people have already been killed since the revolt broke out against his rule in late February. Hopefully his stubbornness won't outlast the international community's attention to the uprising against him.
Read more at the Huffington Post.
In other news: Uganda's 'Kill the Gays' Bill Delayed by Walkout.
Like The Root on Facebook. Follow us on Twitter.