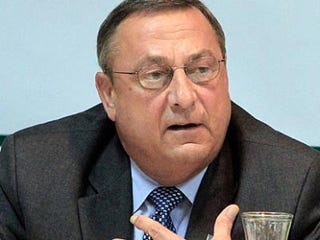 Clearly, a return to civility (or even decency) in politics won't start with Maine's Republican Gov. Paul LePage.
After telling the NAACP to "kiss my butt" and refusing to attend their event in honor of Martin Luther King Jr. Day, Maine Republican Gov. Paul LePage attended a different MLK celebration.
LePage appeared at a breakfast in Waterville, Maine Monday sponsored by the Rotary Club and Spectrum Generations that he attended often as mayor of Waterville.
Last Friday LePage refused to attend the NAACP event because it was sponsored by a special interest, a decision for which he was criticized. The NAACP event included a meeting with black prisoners at the state prison, and the group refused the governor's proposal to meet with all prisoners.
"I'm not going to be held hostage by special interests," LePage said Friday. "My son happens to be black, so they can do whatever they'd like about it."
LePage has an adopted son from Jamaica.
SOURCE: CNN Political Ticker
A black son? Well, that makes it all better, doesn't it? This joker even shook the-butt-that-everyone-can-kiss to the beat of African drums at the MLK event he attended.
As previously observed in The Buzz, LePage misses the point of MLK Day: unity. He should have kept his butt at home.
In other news: Find Out How FLOTUS Spent Her Birthday.
Sheryl Huggins Salomon is senior editor-at-large of The Root and a Brooklyn, N.Y.-based editorial consultant. Follow her on Twitter.