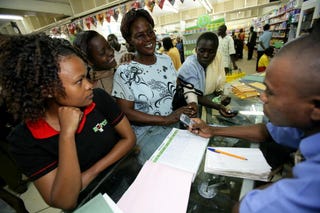 As many African countries struggle to achieve widespread economic growth and to escape from just being raw agricultural and mineral producers, change is occurring in Kenya, home to East Africa's largest economy.
There, information technology is being used as a springboard for growth. One aspect of that drive is Konza Technology City. The ground breaking for the government-backed 5,000-acre science-and-technology "silicon savanna," about an hour from Kenya's capital of Nairobi, took place recently. The bulk of Konza's $10 billion funding is slated to come from the International Financing Corp., a division of the World Bank. (To read both supportive and opposing comments about the Konza initiative, click here.)
Similar tech or green-oriented projects exist or are under way in Malaysia (Technology Park Malaysia), Panama (Pacifico), the Philippines and China. Nairobi is also the regional hub for U.S. tech companies including IBM, Google, Microsoft and General Electric.
But Kenya's advance, led by force of minds and not arms, is threatened. Eight weeks ago tourism — Kenya's largest hard-currency earner — began evaporating after foreigners were killed or kidnapped by Somali gunmen believed to be allied with al-Shabab, an Islamic militant group.
Then the U.S. Embassy in Kenya issued a terrorist-attack warning for Nairobi after Kenyan soldiers invaded southern Somalia pursuing the kidnappers. In 1998 terrorists exploded a truck bomb outside the U.S. Embassy in Nairobi, killing more than 200. Attacks in Nairobi could devastate Kenya's economic advance, in addition to killing innocents.
A Futuristic Vision of Kenya
The Root looked at the expansion of Kenyan public, private and nonprofit information technology, which is a key part of Kenya Vision 2030 (pdf). This initiative projects that by 2030, the poor, ethnically divided country can become a more inclusive, industrializing middle-income country that provides its citizens with a high quality of life.
Kamau Gachigi believes that it is doable. The coordinator of the University of Nairobi's Science and Technology Park says that Kenya can develop economically if a coordinated effort unites government ministries and six national laboratories, seven national universities and the business-industrial sector. The Penn State Ph.D. in solid-state science wrote in an email that such an effort would construct a "triple helix [of interests], the 'DNA' for the successful creation of a National Innovation System anywhere in the world."
Collaboration already exists. Gachigi's science park is part of a network of MIT-sponsored Fab Labs. The labs have high-precision tools to turn ideas into reality. Gachigi says that too often, technically trained Kenyans leave science because of a lack of jobs in their fields.
Countering that reality at Fab Lab, engineers adapted an idea to create an inexpensive mesh network that provides high-speed connectivity for Web devices across wide areas. The engineers then started a company that is currently being incubated at Nairobi University.
In another instance, Gachigi asked his students to invite a self-taught Kenyan security expert and inventor to visit the lab. The man — featured on a TV program — had hacked a cellphone and built a large circuit board to monitor his home and run a homemade machine to brew his tea. Gachigi's students helped the inventor shrink the circuit board to one computer chip. Gachigi says that someday that inventor will be a millionaire.
Google Brings African Markets and Entrepreneurs Online
Google's sub-Saharan Africa unit, also eager to spread the IT gospel, has increased its presence at local universities and held webmaster and developer seminars. Last week the search engine company gave a new tool to Kenya's 10 million Web users — 25 percent of the population — with the launch of Google Trader Kenya's free classified service. It joined similar Google sites in Uganda and Ghana.
Google Trader is a boost for Kenyan entrepreneurs, but it isn't alone. South African-owned bidorbuy.co.za and dealfish.com are already in East Africa. But users beware. Dealfish, which has Web venues in nine African countries, including Kenya, has been hit by West African and Eastern European scammers posting fake ads.
In September the annual GKenya conference also offered owners of small and medium-size businesses a free website builder and training in how to advertise online. Check out the conference on the blog of Kiruikenn, a third-year computer-technology student at Jomo Kenyatta University.
While attending GKenya, Bitange Ndemo, Kenya's permanent secretary of information and communications, praised the initiatives. He said that "being online is an essential part of economic growth; having a website is as important as having a telephone. Google is giving small and medium business a head start by making it easy to have an online presence."
The Cellphone as Catalyst
Imagine a country where 15 percent of the population has a bank account but every second person has a cellphone. That place is Kenya, with nearly 40 million people and more than 25 million cellphones.
A catalyst for the IT revolution was created in 2007, when Safaricom Limited, Kenya's biggest cellphone company, created the M-PESA system and made Kenya the first country to use devices to transfer money. Millions of people now use their phones to stay in touch, open bank accounts and do business. Are you wondering how Kenyans charge their devices to do all of these functions? Increasingly they purchase a mix of locally created or imported solar-energy kits.
To build on this growth and attract investment, Kenya, in an unprecedented move for a government whose officials have often faced corruption charges, has given its citizens and the world open access to its books. This month Kenya became the first sub-Saharan African country to post government data online. Kenya Open Data uploaded core government development, demographic, statistical and expenditure data, as well as graphs that show how Kenya compares with other black-African and low-income countries.
Ultimately, just how far and fast Kenya grows may depend on its ability to avoid a wider war with Somali militants. In the meantime, to learn more about the country's IT efforts, check out these links:
* Video of Konza Technology City.
* iHub and its Barcamp Nairobi gathering of IT enthusiasts.
* CIO East Africa, created by Harry Hare.
Frank McCoy writes about business for The Root.