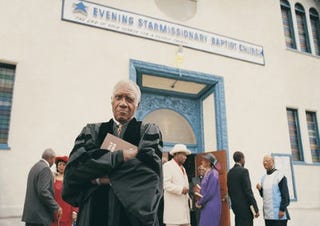 In his Chicago Sun-Times column, John Fountain responds to a letter from an anonymous pastor he received years ago in response to a critical essay Fountain wrote about the black church. The letter writer asked if he and his colleagues have to do it all. Fountain essentially asks the pastor where are the good shepherds in times of crisis.
Dear Pastor,
I hear you, man … But the people perish. And yet, the clergy flourish.
So many among you, mani­cured and wearing regal, customized preacher robes and golden crosses in the pulpit, wax eloquently Sunday after Sunday about love. And yet, daily, in loveless urban streets, often within the shadow of churches, death, poverty and hopelessness rage like a relentless, violent storm — so-called light and darkness coexisting, like good neighbors.
And I wonder: How is this possible? Doesn't the faintest presence of light dispel darkness? Where are the good shepherds?
Just the other day, I saw on a street corner in a troubled Chicago neighborhood a symbol of the state of the black church and its glaring disconnection: A proud but lifeless brick building adorned with the symbols of Christianity. It stood dark, protected by black wrought-iron bars, even as life beyond Sunday mornings ebbed and flowed up and down the avenue — unfazed and unaffected by the church that generally remains visionless regarding effectual change for a people.
In these times, far too many pastors fill their coffers on the backs of the poor. Far too many remove themselves from the daily travails of the sheep, choosing instead to dwell on faraway hills of suburban meadows where gunshots, crime and the cries of their people form not so much as a whisper as they lay their heads on peaceful pillows.
Read John Fountain's entire column at the Chicago Sun-Times.