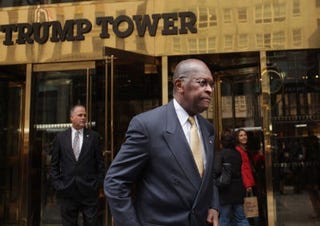 Laura Washington writes in her Chicago Sun-Times column that even though Republican presidential hopeful Herman Cain shows no signs of slowing down on the campaign trail, she doubts that he will be able to make it to the finish line. She runs down a list of reasons, including a lack of political experience and a litany of verbal missteps. Least among them are claims among staffers that his operation is unfocused and disorganized.
Is the Herminator here to stay? Or is Herman Cain just a flash in the pizza pan?
In just a few weeks, Cain, the former CEO of Godfather's Pizza, has vaulted to the top of the Republican lineup for the 2012 presidential campaign.
He has no political background, has never served in government and is plagued by a trail of his own verbal missteps and poor judgment calls. Yet Cain remains a top player in the presidential sweepstakes.
Last week, a CBS/New York Times survey of Republican primary voters reported that Cain led the eight-candidate field with 25 percent of the vote. The survey, taken Oct. 19-24, put Cain 4 percentage points ahead of former Massachusetts Gov. Mitt Romney.
The political prognosticators are stumped. The Washington wags are wondering.
Read Laura Washington's entire column at the Chicago Sun-Times.