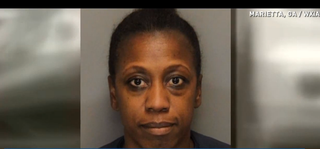 One Georgia kindergarten teacher is facing serious charges after she allegedly dragged one of her students across the classroom by the ankle, WXIA-TV reports.
Judy Bingham was arrested and slapped with a first-degree felony charge for cruelty to children, as well as a misdemeanor charge for simple battery, after she allegedly grabbed the student and dragged him to the front office, causing him to bump his head on the floor at Tritt Elementary School in Marietta.
According to the news station, a paraprofessional helping out in the classroom complained to Bingham that the student was not listening to instructions or sitting still at the time of the Aug. 15 incident. Bingham then "grabbed a student by the ankle and dragged him across the classroom, causing him to hit his head on the floor," the news site notes, before continuing to hold him by the ankle and taking him "out the classroom, down the hallway and to the front office."
WXIA-TV notes that a school district spokesman confirmed that Bingham was "no longer in the classroom," but he would not comment "on personnel matters."
A letter was sent to parents saying that the teacher would not be returning to the school and that the administration was currently looking for a qualified replacement.
Read more at USA Today.